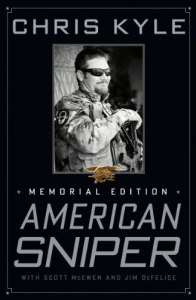 American Sniper: Memorial Edition
By Chris Kyle, with Jim Defelice and Scott McEwen, William Morrow, New York, NY, (2013)
Reviewed by Stephen Phillips
The war on terrorism will be the source of many memoirs. All of them will undoubtedly provide valuable and important insight. Historians and military enthusiasts will always particularly enjoy books that are pivotal in their action or cover the exciting aspects of special operations. Within this category are those written by and about the men of Naval Special Warfare, Navy SEALs. These have become an unofficial genre commonly referred to as "SEAL Books."
Chris Kyle's autobiography American Sniper (written with Jim DeFelice and Scott McEwen) is one such book. The version reviewed is a memorial edition that includes an appendix of personal reflections on Kyle's life written by teammates, friends, and family.
Kyle had over 160 confirmed kills as a sniper in Iraq. He surpassed Carlos Hathcock, a Marine sniper who served in Vietnam. This feat makes Kyle somewhat of a celebrity, though he states that his high numbers were based on luck, or as he calls being 'on the gun' at the right time. He relays several examples of taking an overwatch position from a sniper who spent hours without a target to then take out several targets within minutes. As a result of this luck, combined with his honed skill, Kyle earned the moniker 'Legend' among his teammates and 'The Devil' among the insurgents. Even with this recognition, he had no intention of writing about his time as a SEAL until he learned that if he did not his story, others intended to. Thus, as he reported in an Episode 8 of "Inside the Team Room: U.S. Navy SEALs," he did so to control the content and ensure its accuracy.
Like most SEAL books, Kyle writes about his journey through Basic Underwater Demolition School, or BUD/S. He describes fracturing his foot two days before Hell Week, yet keeping this fact to himself. Otherwise he would be rolled back to the beginning of the course and have to endure the grueling process all over again. Kyle completed Hell Week but then rolled in the dive phase due to perforated ear drums.
Just as he joined SEAL TEAM THREE as his first assignment, Kyle met his future wife Taya. Her voice joins the American Sniper narrative from this point on to provide the perspective of the difficulties of maintaining a family, a relationship with a special operator.
Fans of SEAL books will enjoy reading about Kyle's adventures. He conducted ship takedowns and reconnaissance using Desert Patrol Vehicles or 'DPVs.' He even found chemical weapons and aircraft buried in the desert. (Of note – chemical weapons are considered weapons of mass destruction. Kyle and many others have reported finding them, yet the official narrative from the second gulf war for some reason remains that none were found).
Kyle was selected for sniper school, quickly discovering it was a challenge even for those who have completed BUD/S. The standards are so exacting that only 50% of the frogmen who begin the course graduate. The course starts not with weapons, but with other tools of the trade; computers, GPS, and cameras. Observation and collection is as important to the discipline as the kill shot.
For gun enthusiasts, Kyle provides much detail on the weapons in his arsenal, like the Mk 12, Mk 11, or the .300 Winchester Magnum. He describes each ones dominant features, their advantages and disadvantages, and the circumstances in which he decided to employ each. Kyle even modified his M-4, having it combined with his Mk 12 upper so that he is able to go full auto if required and have a collapsing stock for his sniper rifle. As one would expect in such a narrative, American Sniper also delves into the science, engineering, and art of precision targeting with a long gun.
When Kyle's platoon deploys to Iraq, he is seconded to Polish Special Forces, known as GROM. Their mission was to capture high value targets in Baghdad. GROM needed Kyle's navigation skills to ensure safe ingress and egress to target locations, but in short order he earned their trust and became an assault team member. As Fallujah heated up, he was assigned to Kilo Company of the U.S. Marine Corps. He worked with these men as they took the city building by building, block by block. Kyle's role as sniper, sometimes simply to augment the "grunts," is riveting. His viewpoint and the descriptions of his actions with Marines serve to highlight the hard work and sacrifice made by America's service men and women.
American Sniper touches on a few points that are the source of debate. For example, there was a debate about where SEALs should operate. Some suggested there should be a ten mile limit from the sea. Kyle disagrees. Still, any reader can read this book and consider the role of Naval Special Warfare. Is it to be a maritime force first (like conducting ship takedowns and amphibious reconnaissance missions), or is it a highly capable element to bring force to bear anywhere in the world, even far from the sea. Whatever the answer, it is clear that Kyle's presence on the battlefield, even the urban environs hundreds of miles inland, had a positive impact. The calculus of 160 kills is simply immeasurable, as is the loss of this American hero.
Phillips served in the U.S. Navy as a surface warfare officer and Explosive Ordnance Disposal Technician. He is the author of The Recipient's Son, a novel about the U.S. Naval Academy published by the Naval Institute Press.