By Dave Colamaria
This week is the annual LEGO Shipbuilding Contest at the Hampton Roads Naval Museum, and I've finished my contribution to the event in the nick of time. This weekend I completed work on a 7 foot long version of the aircraft carrier USS Lexington (CV 2).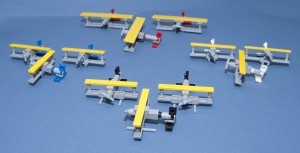 The project took me a little over 2 months, and I estimate that I used between 10,000 and 11,000 LEGO bricks. I'm mostly pleased how it turned out, though there are always challenges trying to make curvy naval shapes with blocky LEGO bricks. I decided to focus on Lexington's early configuration, from the late 1920's. Over the following decade, numerous changes were made, including the addition of a significant number of anti-aircraft guns, as well as the widening of her flight deck at the bow. I liked her clean, simple lines from the late 20's best, and settled on that look for my model. I designed 3 different types of biplanes for her air group. I have small float plane scouts (with black tail colors), two squadrons of fighters (blue and white tail colors) and a squadron of large torpedo planes with red tails. Each squadron's leader is indicated by a fuselage stripe matching the squadron's tail colors.  I decided to build the wooden flight deck using a brown color with white stripes. At various points Lexington and her sister ship Saratoga had different stains on her flight deck (including what must have been a rather garish looking maroon stain with orange striping) but I liked the brown and white contrast. I am very much looking forward to the event next weekend, especially all the wild and crazy creations that people will be bringing from home! In addition to Lexington I'll be bringing a long a 5 foot long Fletcher class destroyer made from LEGOs, I hope to see you there.
More pictures to follow.  If you want to see the full scale, you should come to the event!
For more information about the event, please go to the HRNM Facebook Page.