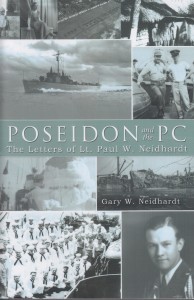 Edited by Gary W. Neidhardt. AuthorHouse, Bloomington, IN, (2013)
Reviewed by Charles Bogart
Editor Gary Neidhardt transcribed and annotated 115 letters that his father, Lt. Paul W. Neidhardt, wrote to his wife, Phyllis, between September 1943 and November 1945. Neidhardt, commissioned as an Ensign in the U.S. Navy in July 1942, went on to serve aboard two PC boats, USS PC 1172 in the Atlantic and USS PC 814 in the Pacific. Neither PC boat would encounter the German or Japanese enemy. Each ship did encounter a major storm at sea.  PC 1172 encountered the great Atlantic hurricane of September 1944 that ravaged the East Coast of the United States and Canada, while PC 814 was struck by Typhoon Louise in October of 1945 that devastated Okinawa.  The title of the book is derived from his father's encounters with these two storms, as the editor considers them messages from Poseidon, the god of the sea.
Paul joined PC 1172 at Sturgeon Bay, Wisconsin, in the summer of 1943 and went to sea on board her via the Chicago-Illinois-Mississippi River Systems. The letters he wrote home are about family matters, his love of Phyllis, what he was doing, and life on board his boat. We are treated to a variety of incidents within his letters that cover personnel problems with the ship's crew, auxiliary duties assigned for him to perform, runs ashore, and life at sea. There is almost no coverage of what assignments PC 1172 was carrying out or where she was. One has to read between the lines to ascertain where she was operating and what duties she was carrying out. It appears that PC 1172 spent most of 1943 sailing between Miami, Florida, and the Caribbean waters performing escort duties. Paul went into great detail concerning PC 1172's two day encounter with this hurricane while escorting a convoy. He reported 35-foot high waves and rain so strong it sandblasted paint from the ship's bridge.  He mentioned living on soup, coffee, and crackers. In February 1945, Paul, now a lieutenant, was relieved of duty on PC 1172 and ordered to San Pedro, California.
At San Pedro, Paul received orders to report as Executive Officer to PC 814 being built by Commercial Iron Works in Portland, Oregon.  PC 814 commissioned at Portland in June 1945 and undertook workup at San Diego, California. Paul oversaw the training of the crew and the two junior officers assigned to the ship. PC 814 arrived at Pearl Harbor, Hawaii, on August 11, 1945 with the news of the A-bomb being dropped on Japan.  She was still docked there when the announcement of Japan's surrender was made on August 14th. Paul heartily believes the dropping of the A-bomb his life and the lives of countless others. Thereafter, many of his letters discuss how many points he has and how many he needed to be discharged. He also discusses two new job assignments he was given: Recruiting Officer and Civil Readjustment Officer.
His account of PC 814 riding out Typhoon Louise at Okinawa is by itself worth the price of the book. Due to engine problems, they are unable to put to sea. They anchored in what they believed was a sheltered location. Before the storm passed by, however, they lost both of their anchors and eventually came to rest on a reef. PC 814 was so damaged that the Navy decommissioned her in place.   Before that could happen, however, an investigation of the circumstances of her being damaged had to be carried out. The investigation was not completed when Paul received orders to return stateside as Phyllis expected to deliver a child in December. The book ends with three letters Paul wrote to Phyllis in November 1945. A postscript added by the editor follows Paul and Phyllis through his return to the civilian world, his success in his chosen field, and their deaths.
The book is a nice easy read and is far more of a family autobiographical accounting than a military history. Yet the book gives amazing insight into the family life of an officer and his wife during World War II. Those interested in social history will find much material in this book.
Charles H. Bogart is a frequent contributor to Naval History Book Reviews.