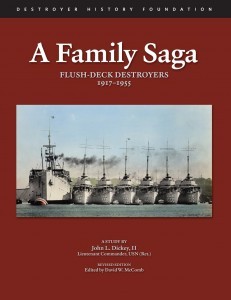 By Lt. Cdr. John L. Dickey; Revised by David W. McComb, Merriam Press, Bennington, VT, (2013)
Reviewed by Samuel Loring Morison
Not since the U.S. Naval Institute published Commander John Alden's famous Flush Decks and Four Pipes in 1965 has such a study been published. A Family Saga is twice the length of Commander Alden's study.  Lt. Cdr. John L. Dickey and editor David W. McComb discuss the 278 flush deck destroyers of the Caldwell and Clemson classes in rich detail.  This is a worthy addition to one's library as a supplement to Alden's book. The appendix alone has data unseen in the earlier work. A Family Saga, for example, occasionally lists two dates for disposal of a ship. Dickey and McComb did this because they may have uncovered two official documents with two different dates. Typos aside, one document may come from the Navy saying the ship has been sold to the buyer on the date indicated, while the second document may come from the purchaser with an entirely different date.  Anyone experienced in the study of U.S. naval ships and their history knows this type of error can and does happen.
There are small typos in the book that should be brought to McComb's attention for correction in the next edition. Otherwise, the late Lt. Cdr. Dickey and Mr. McComb are to be heartily congratulated for their epic work.
Samuel Loring Morison has written nine books and over 350 articles in naval and military affairs.