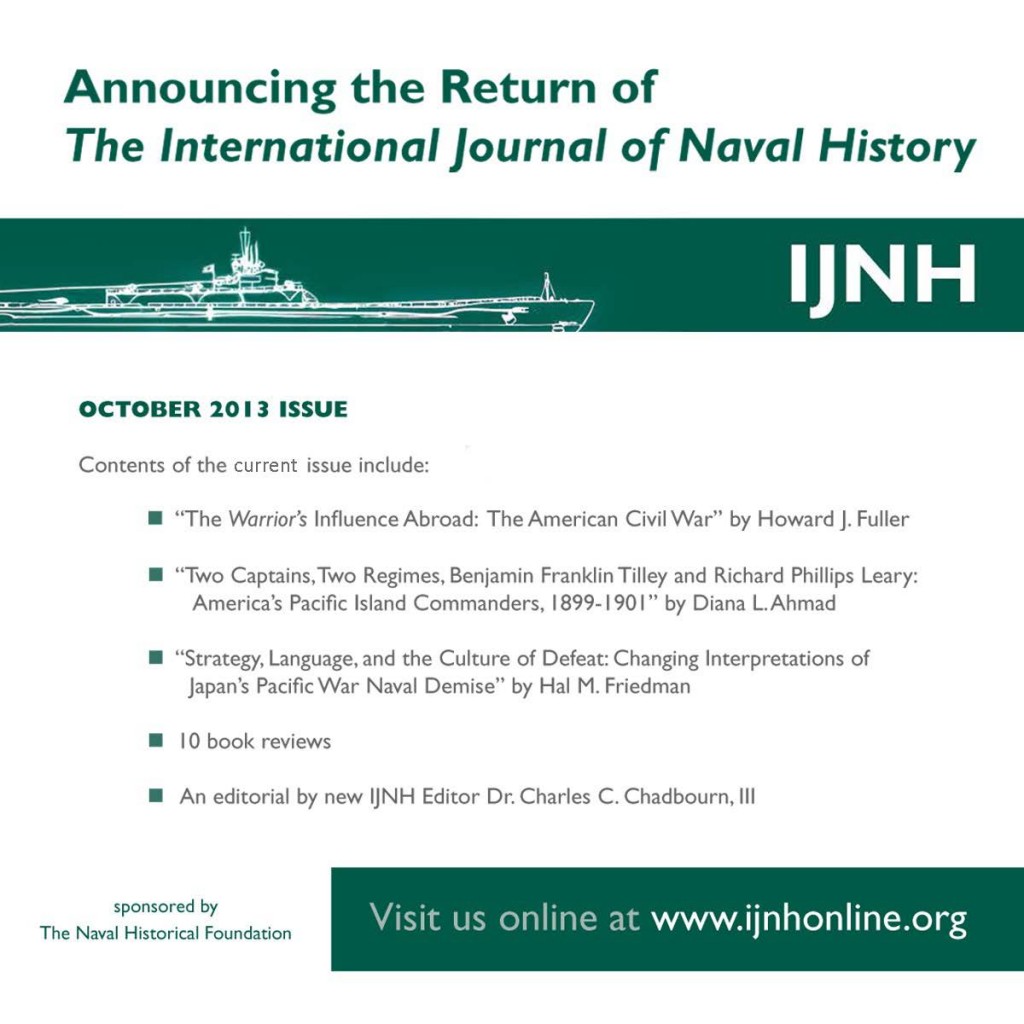 The Naval Historical Foundation is pleased to announce the relaunch of The International Journal of Naval History, and the release of the October 2013 issue. IJNH is the scholastic arm of the Foundation's naval history outreach. It features peer-reviewed original articles, and book reviews on important new publications. IJNH is founded on the belief that free, open access to scholarship fosters knowledge sharing between the international community of naval historians. IJNH began publishing in 2002, under the leadership of Dr. Gary Weir. After 10 successful years of publishing, Dr. Weir has stepped aside as Editor in Chief. Taking over is Dr. Charles C. Chadbourn III, of the Naval War College. Dr. Chuck Steele of the U.S. Air Force Academy is taking the lead as Book Reviews Editor. The Foundation's own Dave Colamaria is serving as Digital Editor.
We hope that you will take a look at this month's issue. It features three original articles. Howard Fuller writes about the influence of HMS Warrior on American shipbuilding. Diana Ahmad tells the tale of two U.S. Navy captains and their saga in the Pacific islands at the turn of the 20th century. And Hal Friedman examines Japanese culture and how their leaders came to grips with defeat in World War II. The issue also has 10 book reviews, and an editorial from Dr. Chadbourn.
Going forward, we encourage scholars to contact the IJNH editorial board regarding submissions for future issues. We also welcome new book reviewers to contact us. Contact information for the editors can be found here. And each of the articles is enabled for comments – please let us know what you think. We hope to see you online, to continue the discussion!
Read the October 2013 Issue of The International Journal of Naval History