"Cook For a Submarine Fleet" was a mathematics lesson developed by Greg Felber, mathematics teacher at Ledyard Middle School, Ledyard CT during the Submarine Force Museum/Historic Ship Nautilus STEM Teacher Fellowship Program the past summer. Last week, using the lesson, the 7th Grade students at Ledyard Middle School were put in the position of a Culinary Specialist Chief (CSC) aboard a U.S. Navy submarine of their choosing. They were challenged to select a naval recipe designed to serve 100 people to:
serve the entire crew aboard their chosen submarine for one meal
serve the same meal weekly/monthly for the entire length of the submarine's deployment
serve their school class
serve their family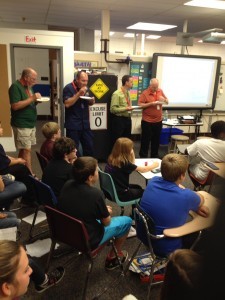 Obviously, use of mathematical proportions was required to solve the basic, real world problem. A great part of this activity was in the application of converting between fractions and decimal. Students would change their fractions to decimals in order to calculate, and then back into fractions in order to find the right cooking measuring utensil. "This was very cool to watch students learn this on a "need to know basis."
The students learned a great deal about proportions, measurement and conversions, while discussing real issues faced everyday aboard U.S. Navy submarines. It went really well, and some students asked to actually cook their recipes and bring them to school. Greg made arrangements to have some military volunteers come in to "taste-test" the result (shown at right) and discuss their experiences of eating aboard submarines. This experience was very worthwhile and many students persevered while learning a great deal of about the intended math topic.  Greg said: "This has been one of the best experiences I have had since I began teaching back in 2001. I hope to create another lesson or two next year and would recommend any teacher take the route of trying it out. It makes it all that more worthwhile."
The lesson plan can be viewed at www.ussnautilus.org/education/stemlessonplans.shtml. Learn more about the ongoing NHF STEM-H Program here.