Every other year, top scholars, historians, and professionals gather at the McMullen Naval History Symposium at the United States Naval Academy. They have the opportunity to listen to lectures on cutting edge research, network with their peers, and soak in the history on the beautiful grounds of the Academy in Annapolis. This year, conference participants had the chance to recognize three of their own for outstanding lifetime achievements in the field of naval history. Dr. James Bradford, Dr. Phil Lundeberg, and Dr. William Still were recognized in a ceremony at the Symposium, and became the first three recipients of the Naval Historical Foundation's Commodore Dudley W. Knox Naval History Lifetime Achievement Award.
This award is designed to honor individuals who have made valuable contributions to advance
the field of naval history through scholarship, mentorship, and leadership in military and maritime historical organizations. The award is named for Commodore Dudley Wright Knox who had a distinguished career as a naval officer and after retirement helped establish the Naval Historical Foundation in 1926. He served as secretary of the  organization for decades and was its president at the time of his passing in 1960.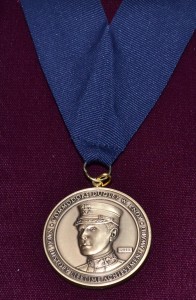 The three recipients were recognized during the Thursday lunchtime gathering at the Symposium. A video was shown, highlighting the career of each individual, and then Foundation President Admiral Bruce DeMars, USN (Ret) presented each of the three with a Knox medal, inscribed with this year's date. The luncheon closed with a lecture by Captain Henry J. Hendrix, USN, Director of Naval History, entitled "The Influence of History Upon Seapower."
Dr. James Bradford of Texas A & M University recently served as the Class of 1957 Distinguished Professor at the United States Naval Academy. He is widely recognized for his writings on the U.S. Navy during the age of sail.
Dr. Philip Lundeberg is curator emeritus from the Smithsonian Institution's National Museum of American History, and was the youngest of three officer survivors of USS Frederick C. Davis (DE 136), the last American warship sunk in the Battle of the Atlantic during World War II.
Dr. William Still, professor emeritus from East Carolina University, was the founder of ECU's maritime history program and has written a number of very important works on American naval history focusing on the Civil War and on the U.S. Navy on the European station.
To learn more about these three deserving awardees, we invite you to watch the brief video below, which will give you a biographical summary of their life and achievements. To all three, we offer our heartfelt congratulations!