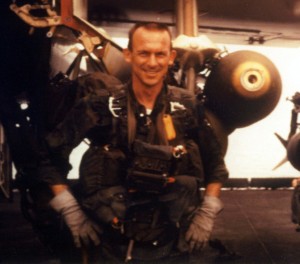 Former Vietnam Prisoner of War and ex-Naval Historical Foundation Executive Director, Captain Kenneth Leon Coskey, USN (Ret.) passed away Saturday, 29 June 2013, at the assisted living facility where he lived. Funeral plans for Arlington National Cemetery are still pending. Born 26 December 1929, Coskey grew up in Detroit, Michigan and entered the Navy through the Naval Aviation Cadet (NavCad) program at Pensacola in November 1951. Commissioned as an ensign on 13 May 1953, Coskey earned his Wings of Gold two months later and was assigned to the North Island based VS-21, where he flew the Grumman AF Guardian – the first purpose built anti-submarine warfare carrier-based aircraft to enter U.S. Navy service. Completing his first tour in December 1954, Coskey returned to the Florida panhandle to serve a three year tour as an instructor pilot at NAAS Whiting Field.
Returning to the West Coast, the Navy assigned Coskey orders to attend the Naval Postgraduate School from January to September 1958. With the Navy transitioning to jet aircraft, Coskey underwent jet training at Olathe, Kansas that autumn and joined VAH-3, at NAS Sanford, Florida, the A-3 Skywarrior Replacement Air Group. Coskey then rejoined the fleet as an A-3 pilot with the Jacksonville-based VAH-1, embarking with the newly commissioned USS Independence (CVA 62) during deployments between May 1959 to October 1962. Departing Independence following the Cuban Missile Crisis, Coskey continued to fly the A-3 with VAH-11 from November 1962 until June 1963. He then returned to Monterey where he obtained a BS from the Naval Postgraduate School in June 1965. For his first Washington tour, Coskey spent two years with the Navy Bureau of Personnel. He returned to the fleet following Replacement Air Group training with VA-42 based at Oceana, Virginia. Now flying the A-6 Intruder, Coskey served as first as Executive Officer and then Commanding Officer of VA-85 which deployed in USS America (CVA 66).
On 6 September 1968, during a nighttime armed reconnaissance mission over North Vietnam, Coskey's aircraft sustained a direct hit and crashed on an island in the Song Ca River, southeast of the city of Vinh. Having initiated a successful ejection for himself and his bombardier-navigator(B/N), Coskey landed in thick brush and injured his leg. While a search and rescue helicopter was able to rescue his B/N, Coskey was captured by the North Vietnamese and would be held in various POW camps over the next five years. He was released in Operation Homecoming on 14 March 1973.  Following hospitalization to recover from injuries, Coskey attended George Washington University, where he earned an M.B.A. in May 1975. Continuing on active duty, Coskey served as the Department of Defense Liaison to the House of Representatives Select Committee on Missing Persons for a year. He then commanded the Navy ROTC unit at Northwestern University from 1976 through 1979.  Returning to Washington, Coskey's final tour on active duty was as Deputy Director of the Naval Historical Center (now the Naval History and Heritage Command) at the Washington Navy Yard. Following his retirement on 1 October 1982, Coskey was recruited by former Chief of Naval Operations James L. Holloway III to serve as Executive Director of the Naval Historical Foundation. One of his initiatives was to establish a Naval History Prize at National History Day event held at the University of Maryland which represented the culmination of history competitions held in all 50 states and territories. Today the Captain Ken Coskey Naval History Special Prize given at this event recognizes outstanding achievement in the field of naval history to aspiring young scholars. Stepping down from the Naval Historical Foundation in 1999, Coskey enjoyed retirement in Northern Virginia with his wife Rosemary and continued his interest in naval history, from the perspective of someone who made some very memorable history himself.
Captain Coskey's story will live on here at the Foundation, and his image has been memorialized at the Cold War Gallery, in the new "Battle Behind Bars" exhibit on Vietnam POWs. The overhead banner (shown below) entitled "Service and Sacrifice," features two photos of him, a before and after of his POW experience, showing him in his flight suit on board the carrier America, and on the joyous day of his return home from captivity 40 years ago this year.