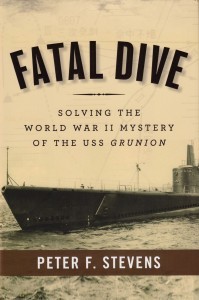 By Peter F. Stevens, Regnery History, Washington, DC, (2012).
Reviewed by Greg Stitz
USS Grunion (SS 216) was already under construction when the Japanese attack on Pearl Harbor thrust America into World War II. Her keel had been laid at the Electric Boat Company shipyard in Groton, CT on 1 March 1941. Christened and launched on 22 December 1941 then commissioned on 11 April 1942, she was commanded by a veteran submariner, Lt. Cdr.  Mannert (Jim) Lincoln Abele. Grunion was lost with all hands in the Aleutian theatre on her very first war patrol.  At the time, all the U.S. Navy knew for sure was that Grunion went on patrol and never returned. Grunion and her crew were finally declared, "overdue and presumed lost" on 16 August 1942. Thanks to this book, we now know exactly when and where Grunion was lost, even if the exact circumstances are yet, and may always be, somewhat unclear.
Fatal Dive: Solving the World War II Mystery of the USS Grunion is the result of countless hours of work by Jim Abele's three sons – Bruce, Brad, and John. Determined to solve the mystery of the father's death, they not only searched official Navy records, but also managed to locate sources in Japan that held vital clues to Grunion's fate. They also self-financed multiple searches of the Alaskan sea floor, not just finding their father's submarine on the bottom, but also sending down an ROV to photograph it.
Fatal Dive is equal parts biography, historical narrative, technical history and underwater archeological case study. As biography, Fatal Dive is a complete success. Not only does the book chronicle Lt. Cdr. Abele's family history, early life and naval career, it includes everything that is known about every officer, Chief, and enlisted crewman who perished aboard Grunion. Fatal Dive also discusses the impact the deaths had on the families, noting the many girlfriends and fiancés that remained single and the many widows that never remarried. The research is so complete that, except for three men, pictures of the entire crew were located. Fatal Dive even charts the life and career of several of the Japanese officers who faced off against Jim Abele and Grunion, going so far as to locate a widow of one the Japanese officers. The depth and breadth of the research is commendable and sets a very high bar for future authors.
Fatal Dive also succeeds as an underwater archeological case study. The complexities and difficulties of searching for Grunion are presented in an unflinching yet entirely readable manner. The book makes clear that finding where Grunion lay on the bottom of the cold Alaskan seabed, even knowing where she was when she sank, was nearly impossible. Grunion was, the author notes, "…a tiny target in a vast and untamable sea." Because this search was privately funded by Lt. Cdr. Abele's three sons, it is even more remarkable.
As a historical narrative, Fatal Dive also shines. Grunion's short career – a mere 109 days – leaves little to write about, but the author makes the most of what he had to work with. Grunion's training and her transit from the home front to the war zone is well told, including a difficult, storm-tossed, open-ocean rescue of sixteen survivors from the U.S. Army Transport Jack, (sunk by a German U-Boat in the Caribbean). The latter narrative is gripping, without seeming overly dramatic.
It is as a technical history that Fatal Dive is weakest. Without a doubt, Grunion was lost on 5 June 1942, near Kiska harbor, in the Aleutian Islands, during an attack on the Japanese transport Kano Maru. This attack is described in detail from the Japanese side, and hypothetically depicted from Grunion's point of view.
While Japanese sources report that Kano Maru's 3″ gun made a direct hit on Grunion's conning tower (a hit that would have killed Abele and many of Grunion's most experienced officers and crew instantly, as well as causing catastrophic flooding), the author instead proposes that a circular run of Grunion's own torpedo caused her loss, not by hitting and exploding, but by causing an uncontrolled dive which took Grunion below her test depth.
This is not a completely unreasonable hypothesis. The problems with the MK14 torpedo are well-documented and need not be re-examined here. Yet, the author repeatedly confuses the top-secret (and faulty) MK6 magnetic exploder with the MK14 torpedo itself, misidentifying the whole unit as the 'Exploder Torpedo'.   Also, the theory, as explained, suffers from an internal contradiction. Early in the book, Fatal Dive states that by June 1942, the submarine force knew the MK14 had problems and that Lt. Cdr. Abele had the opportunity to talk about these problems with other submarine skippers – men he counted as friends. Yet, when describing the actual loss of Grunion, the author writes:
"Neither Jim nor the sonar man could have guessed that the Grunion's own 3,500 pound torpedo had circled back on her at forty five miles per hour – it had never happened to an American submarine."
In fact, on her very first war patrol, USS Perch (SS 176) suffered a "circular run" of a MK14 on 25 December 1941 and noted it in her patrol report, a report that Jim Abele would almost certainly have received a copy of, and would have studied closely.
Also, part of the evidence that the author presents is incorrect. A photograph of a torpedo lodged in the sail of USS Volador (SS 490) is shown with the caption, "The USS Volador survived a circular run torpedo that lodged in the conning tower but did not detonate." However, a more thorough search would have revealed that the photograph did not show proof of a circular run. Rather, it documented that Volador was, in fact, struck by the direct hit of an inert ASROC torpedo, fired by USS King (DLG 10, later DDG 41) on the morning of 3 February 1961, an event recorded in the deck logs of both Volador and King.  Both deck logs are publically available at the National Archives in College Park, MD. (It should be noted that the firing of the ASROC was intentional, hitting Volador was not.)
The author dismisses the possibility of fatal damage being done by Kano Maru's deck gun, despite the Japanese eyewitness reports. Fatal Dive has several statements emphasizing the ineffectiveness of gunfire against the sub's steel skin. However, the U.S. Navy's "Submarine Damage Reports", published in 1949, identifies ten instances where U.S. submarines were damaged by gunfire. Several boats were damaged badly enough that they were forced to terminate their war patrols and several other boats had very close calls. The report notes in one case involving an armed merchant ship (likely armed with the same model of gun aboard Kano Maru), "Had the projectile struck a foot or two lower, or had Grampus been a second or two slower in diving, serious damage would have resulted." One submarine, Ronquil (SS 396) had her pressure hull penetrated by fragments of her own 40mm shell, which likely struck a lifeline stanchion and detonated over her deck. The damage inflicted by a 3″ round would likely have been much worse.
Fatal Dive is, on balance, a very good book, and the depth and breadth of research is remarkable. It should be in the collection of anyone interested in World War II submarines and is a "must have" if you are interested in the histories of the 52 boats lost during the war. It is also worthwhile for its descriptions of the hazards and difficulties of underwater search operations.
Greg Stitz has served as Curator and Director of Operations at the Arkansas Inland Maritime Museum (AIMM), home of the historic submarine USS Razorback (SS-394) for eight years.  He served in the U.S. Navy Reserve as a Merchant Marine Reserve officer and as a Gunner's Mate (Guns).