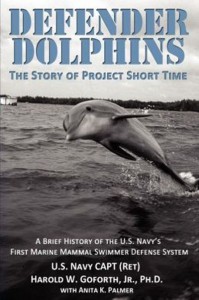 By Harold Goforth, Fortis Publications, United Kingdom, (2013).
Reviewed by Stephen Phillips
Asymmetric tactics are the hallmark of battlefield victory for an insurgency. In the Vietnam War, the Viet Cong employed sappers – those who use explosives to destroy a specified target – to great effect. In his book Defender Dolphins: The Story of Project Short Time, Harold Goforth relays that attacks on U.S. ships in port or inland waters had profound impact. Goforth describes several examples, and reports Communist forces even attempted a coordinated attack initiated with sinking a ship near Dong Ha to block an important supply channel followed by an overland assault. Warning only came after a captured swimmer-sapper folded under interrogation. These operations were of particular concern to Admiral Elmo Zumwalt who especially needed some form of force protection for the ammunition pier at Cam Ranh Bay.
Enter the 'Defender Dolphins' of Project Short Time who would search and mark enemy swimmers and divers. Goforth, a former Navy Explosive Ordnance Disposal (EOD) Technician, is most qualified to tell the story of the beginning of this program since he served as the unit's first Officer in Charge (OIC). The Navy started with white-sided dolphins, but quickly moved to the more resilient Atlantic bottlenose dolphins. The dolphins demonstrated the ability to find both open and closed circuit divers. This meant they had the potential to serve as a harbor defense asset. The system was evaluated against U.S. Navy SEAL/ UDT incursions and was found lacking, probably for political reasons.
Fortunately for Short Time, when Admiral Zumwalt became the Chief of Naval Operations, he was already aware of the program. He inquired how soon could Short Time be in Vietnam to prevent swimmer attack against the ammunition pier at Cam Ranh Bay. The answer: ninety days. Thus, the system under the direction of Lieutenant Goforth had its first operational deployment. The details of this first mission are best read in Goforth's own words through the pages of Defender Dolphins. It is notable that only one successful attack occurred while Short Time was in theater and it came overland.
Defender Dolphins is a quick, fun read. Goforth includes personal anecdotes of life as an EOD Tech in Key West, San Diego, and Kaneohe to give the reader the sense that they are hearing a sea story from a close friend. He also covers the program as only a primary source can, including a detailed discussion of the Vietnam deployment and information about other mammal systems from sea lions to killer whales, making the book suitable for any fan of history. Finally, it is clear that Goforth remained connected to the program personally and professionally, discussing its continued evolution. Perhaps some of the most valuable passages in Defender Dolphins are appendices where Goforth corrects many misperceptions sown by the program's detractors post-Vietnam.
Defender Dolphins is a must read for anyone involved in force protection missions especially those who focus on harbor defense. Anyone from the diving community will find the story of interest, as will practitioners of irregular warfare or operations in the littorals. Finally, it serves as the most unique historical account of the Vietnam War.
Stephen Phillips served in the U.S. Navy as an Explosive Ordnance Disposal (EOD) Technician at EOD Mobile Unit Six, Eight, and Ten. He is the author of Proximity: A Novel of the Navy's Elite Bomb Squad. You can follow him online at stephen-phillips.blogspot.com/.