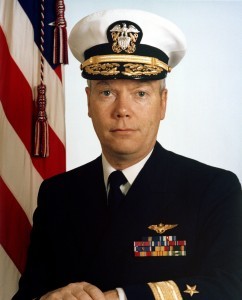 We are honored to announce that Rear Admiral Robert H. Shumaker, USN (Ret), will deliver the annual David Leighton Lecture at the 2013 Naval Historical Foundation Annual Meeting. Bob Shumaker was born in New Castle, Pennsylvania where his parents, Alvah and Eleanor, were a lawyer and a writer, respectively. He attended Northwestern University for a year and then the U. S. Naval Academy, graduating in 1956. After flight training, Shumaker eventually joined VF-32, a fighter squadron in Jacksonville, Florida. He was a finalist in the Apollo astronaut selection, but a temporary physical ailment prevented his selection. A 1964 graduate of the U. S. Naval Postgraduate School with a masters degree in aeronautical engineering, Shumaker joined VF-154 in San Diego, California. About this time he married Lorraine Shaw of Montreal. In February 1965, while flying an F8 Crusader, he was shot down on a mission over North Vietnam, was captured, and spent the next eight years as a POW. His fellow POW's consider him as a resister, leader and patriot. In 1973 he was repatriated and resumed studies, which eventually led to a doctorate degree in electrical engineering. As a Captain he was a government project manager for smart missiles at the Naval Air Systems Command. In 1983 he was promoted to the rank of Commodore and became the Superintendent of the Naval Postgraduate School in Monterey, California. At the Pentagon in 1986, as a Rear Admiral, he was responsible for coordinating the research efforts of the Navy's air, surface, electronics and space activities. He retired from the Navy in 1989 and became an assistant dean at The George Washington University and later became the associate dean of the Center for Aerospace Sciences at the University of North Dakota, from which he retired in 1991.
Admiral Shumaker's military decorations include the Distinguished Service Medal, two Silver Stars, four Legions of Merit, the Distinguished Flying Cross, a Bronze Star, and two Purple Hearts. In 2011 he was presented with the Distinguished Graduate Award from the U. S. Naval Academy. He and his wife now live in Fairfax Station, Virginia where his hobbies are golfing and flying. Their son Grant is a neurosurgeon in Sioux City, Iowa.
The annual Leighton Lecture was created to highlight a unique aspect of naval history for the members of the Foundation. It is named in honor of David T. Leighton, a 1945 graduate of the United States Naval Academy, who was the first-ever student to receive a degree in nuclear engineering at the Massachusetts Institute of Technology and served with Admiral Hyman G. Rickover at the Division of Naval Reactors. Hailing from a Navy family, Leighton has been a strong supporter of the NHF Cold War Gallery project. The lecture series is intended to feature individuals who contributed to the making of naval history.