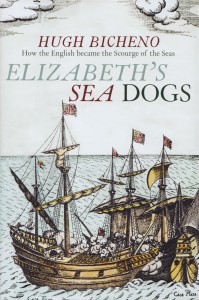 By Hugh Bicheno, Conway Press, United Kingdom, (2012).
Reviewed by Mark Lardas
Up to the last 50 years or so Britannia ruled the waves.  It remains able to project naval power. Many assume it was always that way, yet reality is different.  Britain's naval dominance dates only to early modern times. From Roman times to the ascension of the Tudor monarchs Britain was the 98-pound weakling kicked around by ancient and medieval naval powers.
Henry VIII's naval buildup began to change that, but Britain rise to naval dominance was sealed during the reign of Elizabeth I.  Elizabeth's Sea Dogs: How the English became the Scourge of the Sea, by Hugh Bicheno examines this transformation.
One of the strengths of this book – which goes from strength to strength – is Bichano's ability to place the events of the era into their historical context.  Slavery, casual violence, and medicine are placed within the matrix of their time, rather than being viewed through the morality of either the Victorian era (when Elizabethan history was popular) or the twenty-first century (with its own prejudices, different but as rigid as those of Victorian times).
This permits fresh reappraisals of the era's events, and to sometimes startling conclusions.  Bicheno contends Elizabeth did not originally seek a naval war with Spain. Instead, Bicheno shows that the first voyages to the Caribbean were intended as trading ventures. The shows of force in Hawkins's early voyages were largely play-acting, intended to demolish the Spanish crown's monopoly on trade in their American possessions. Bicheno provides evidence of collusion by Spanish colonists (including locals placing orders for the next voyage by Hawkins).
That it devolved into open warfare resulted from the refusal of Spain's King Phillip to permit representatives from a heretic nation, England, into the New World. Spanish actions against English traders begat English reprisals. In turn, England became a real sea power for its own survival.
Bicheno shows that these results were not inevitable.  Different decisions from El Escorial could have averted a trade war. Poor choices in shipbuilding and naval development might have doomed England. Indeed, Bicheno highlights weaknesses of English naval and Admiralty policy that turned England's survival into a near-run thing. Value is added to the book's excellent main body by appendices included by Bicheno. He adds an appendix on currency, exchange and conversion rates, one on ship types, one on period artillery, an appendix on tons burden, tons, and tonnage, and two appendices listing ships of the period and their characteristics. All add to the book's worth as a reference.
Elizabeth's Sea Dogs will interest both casual and serious students of maritime matters in Elizabethan times. It offers a good introduction to the era, while presenting new concepts those versed in the period will find thought-provoking.
Mark Lardas has published several titles with Osprey.