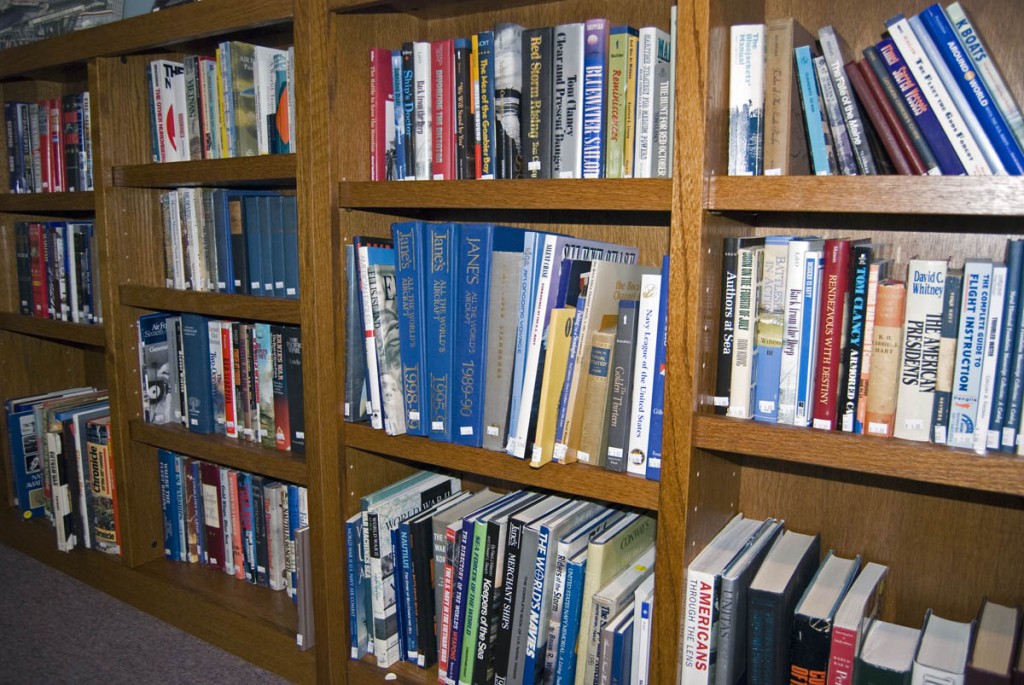 The time has come again for another Museum Store Used Book Sale. Museum Store Manager Frank Arre has been hard at work gathering books and we think you will be impressed with the selection he has acquired. It includes many Vietnam era and World War II books. In addition to books, he will be selling picture frames and photos.
The book sale will be held May 29 and 30 from 0900 – 1400. It will be located in the Museum Education Center, located in the rear of the Navy Museum (Building 76). Doors will open at 0900, so be sure to get there early for the best selection – popular titles go very quickly!
And please don't forget – if you have used books about naval and military history that you no longer want, consider donating them to the Naval Historical Foundation. We will first check with the Navy Department Library to see if they need a copy for their collection, and if not, we will sell it at the Used Book Sale, or in our Used Book collection at the Museum Store. The proceeds from the sales go to support the Naval Historical Foundation and our important work with the National Museum of the United States Navy. With all donations, we can provide you with a letter serving as a receipt for tax purposes.
Frank also wants to share news about some of the great sales going on in the Museum Store. Our signature item, the Truxtun Bowl, is on sale until the end of this month. The regular price of the bowl is $175. With this special, you can purchase one bowl for $145, two for $125, and three or more for $110. These prices will never be this low again, so now is the time to buy! They are great for retirement gifts, or just something to place in your home as a centerpiece.
The Navy Museum Store also now carries Chelsea clocks. These are the "Cadillac" of clocks. The Navy utilized this company in World War II to manufacture their shipboard clocks. There are several models available in the store (mostly military replicas), but we also have just purchased a 6″ Ship's Bell Clock (wind up) which is truly a fine timekeeping piece. This clock retails in the neighborhood of $2500, but Frank will be able to make you a wonderful deal on this or any other Chelsea clock that you might be interested in purchasing. We are offering free engraving for the remainder of the month as an added savings. Please stop by the Museum Store or contact Frank Arre for further information. His phone number is (202) 889-2212 and his email address is farre@navyhistory.org.
The other news is that the store now carries BricTek naval vessels. These are comparable to LEGOs for kids, and the pieces are interchangeable with LEGOs. There are six models to choose from and they are brand new from the manufacturer. The store is running a 20% off introductory sale for this month, so if you want to stock up on early Christmas presents for your kids, this would definitely be one to think about. We have some models prebuilt and on display here at the Museum Gift Shop, and also have them listed on our store website museumstore.navyhistory.org. So don't hesitate, stop on by and see our wide collection of nautical items for both kids and adults.
We hope to see you on the 29th and 30th for another exciting Used Book Sale!