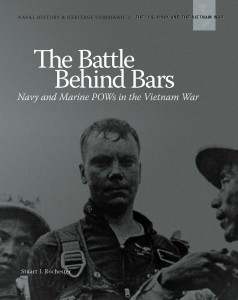 This year marks the 40th anniversary of the return of American Prisoners of War held by the North Vietnamese. Many of the POWs were naval aviators, and the Naval Historical Foundation, in conjunction with the National Museum of the United States Navy, is working on a number of initiatives to remember the long ordeal endured by these brave Americans. We hope that you'll follow along with our efforts, and even consider a donation to support this important work.
The centerpiece of our 2013 efforts will be a new display and video for the Cold War Gallery, to augment the historic POW-related items already on display in the Gallery. We've been hard at work developing a concise, compelling display to tell the overall story of the POW ordeal, and to help provide better interpretation and context for the items currently on display. Included in these new components will be a 6 minute video, under development by R.H. Rositzke and Associates. The display, video, and artifacts will be showcased at the Foundation's Annual Meeting on Saturday, 15 June 2013. Details of the meeting, which will feature speakers including a former POW, will be forthcoming.
Additionally, we are raising funds to bring the 2010 publication "The Battle Behind Bars" back into print – stay tuned for further details. This story of Navy and Marine POWs in the Vietnam War was penned by Stuart I. Rochester, and published by the Naval History and Heritage Command thanks to funding provided by the Naval Historical Foundation. In the meantime, until we can get the book reprinted, you can download a PDF of "The Battle Behind Bars" from the Naval History and Heritage Command website at this link.