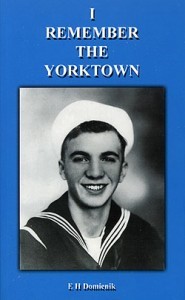 Reviewed by Charles Bogart
I Remember the Yorktown (2006) is the first of three self-published books that Gene Domienik has written concerning his service in the U. S. Navy during World War II. The book focuses on his tour of duty onboard Yorktown (CV 5) from October 1941 to its loss at the Battle of Midway on 7 June 1942. The author was a 17-year old who had just graduated from the Navy Machinist Service School when he was assigned to Yorktown. On board Yorktown, he served in M (main propulsion) Division. This book is an interesting read of life in the prewar and early war Navy as seen by an enlistedman. At times, the author's memory is at odds with accepted historical facts, but these glitches do not destroy this account of Yorktown going to war.
The author starts his story by recounting how, upon graduating from Machinist Service School, he and his fellow graduates with sea bags on their shoulders were marched to Pier 7 in Norfolk. Upon arrival at the pier, a chief read out orders that assigned each graduate to a ship; for Domienik, it was Yorktown. As Yorktown was at sea, he was sent onboard Kilauea (AE 4) for later transfer to the carrier. His tale of service on board Kilauea and Yorktown gives one a rare glimpse into the life of a snipe both onboard and ashore. He faced the same old problem that all underage sailors faced, what to do on liberty when there is no USO Club, and he is not old enough to enter a bar. I was taken aback by the fact that upon reporting to M Division, he was assigned a mentor to help him to adjust to the Navy and make sure he did not run afoul of any regulations. (I never got such help while I was an enlistedman, 1958-1961).What I also found interesting was how dependent he was on scuttlebutt concerning his ship's activities, and how sure his shipmates were that they would not go to the Pacific Theater following the attack on Pearl Harbor, for they were an Atlantic fleet ship.
I found the author's story of Yorktown's short life in the Pacific interesting but disappointing. I wish he had spent less time trying to describe the big picture and concentrated more on what he was doing. In particular, as I read the chapter on the abandonment of Yorktown at Midway, I was besieged with questions I wanted to ask the author concerning just where was his General Quarters station, what actions did his repair team perform in trying to save Yorktown, and what was his route topside when he abandoned ship. I also found interesting his statement that Yorktown lacked enough life preservers to equip each man and that many of the life preservers the ship did have were defective.
Those interested in researching the life of the enlistedman during the period 1940-1942 should consider reading this book.
They Called Me Wee Vee (2008) is the second book in the trilogy that Gene Domienik wrote about his service in World War II. After surviving the sinking of Yorktown (CV 5), he was assigned to the battleship West Virginia (BB 48). The author has chosen an unusual method of telling his story; the story is told in the first person by the ship. The story West Virginia tells covers her life from late 1941 until early 1946. At times her tale is at odds with accepted historical fact, but if one can overlook these faults, this still is an engrossing tale of a ship at war. One other fault is that the story, as told, is lacking in technical details but does summarize West Virginia's career in World War II.
The story of West Virginia at Pearl Harbor on 7 December 1941 is well-written. The main topic here is a recount of the horror some members of her crew experienced upon being trapped alive in her hull after she sank. This is followed by a brief narration of her salvage and repair and the arrival of sailors from the sunken Yorktown to form her M Division. The story of the recovery of the remains of two dead sailors from the propeller shaft alley, eight months after her sinking, is particularly chilling. It is unbelievable what the Navy expected of their men and how these sailors lived up to these expectations.
Once again, those interested in the life of the enlisted man in World War II will find much of interest such as the fact that the Yorktown survivors had to pay to replace their uniforms lost when the ship sank, the lack of compensation for lost personal items, the difference between draftees and prewar sailors in response to cleaning bilges, the ship party held in Bremerton in December 1942 during which the dance hall was wrecked, and the restrictions imposed concerning liberty while the ship was at the Bremerton Naval Shipyard. Mixed in with these tales, we follow Domienik as he progresses upward in rank.
The tale of West Virginia's shakedown cruise upon leaving Bremerton contains interesting tidbits including hull seams opening up when the 16-inch guns were fired, problems with engine room piping and wiring, and non-functioning radar. At one point, due to all of the extra work carried out at sea by the crew to correct engineering problems not addressed by Bremerton Shipyard, the men of M Division requested a transfer off of the ship. Eventually all of the engine room problems were corrected by the crew and West Virginia steamed off for war.
The tale of the Battle of Surigao Straits adds nothing new to this well-known action; however, there is a new twist to the days after the battle. The author states that West Virginia became non-operational due to an outbreak of diarrhea, with some sailors dying from this sickness. However, the ship was ready for the invasion of Iwo Jima and then took part in the invasion of Okinawa. West Virginia had returned to Pearl Harbor for repair when the atomic bomb was dropped but was in Tokyo Bay when Japan surrendered.
While participating in the surrender a ceremony in Tokyo Bay, that iconic World War II photo was taken that showed West Virginia cruising past Mt. Fuji. West Virginia returned to San Diego following the surrender ceremony carrying 1,000 repatriated American Prisoners of War. At San Diego, she threw a large ship party and split the $12,000 remaining in her ship's fund with the wives of her men lost during the war. She then returned to Pearl Harbor for a Magic Carpet run to San Francisco. During this last time at sea, her hull developed a leak forcing her into dry-dock for hull repair. Following this hull repair, she went to Bremerton and joined the mothball fleet. She would remain here until sold for scrap in 1959.
This book reads as if it was written for a middle or high school student rather than a military historian, but it is still an interesting read.
Apology (2010) is the final book in the Domienik trilogy differing as here he makes a case that Lexington (CV 2), Yorktown (CV 5), and West Virginia (BB 48) should each be awarded a Presidential Unit Citation. The material on Yorktown and West Virginia is basically a retelling of the tale in his first two books with some additional material and a few corrections. The material concerning Lexington is new. In presenting its case, the book does suppose that the reader has a greater knowledge of the war than is revealed within these pages.
The author divides the book into three sections and devotes one of these sections to each ship. Basically, he summarizes each ship's history and then lays out the criteria of why he believes the ship is deserving of being awarded a Presidential Unit Citation. I will not attempt to summarize the author's reasoning of why each ship is deserving of this award. Personally, I was not convinced by the author's arguments that these three ships' service during the war differed that much from the World War II service of the majority of the Navy's ships. However, with that said, after reading this book, I will accept that many other readers may disagree with my reasoning as to which of these ships deserved such an award.
This is an interesting book setting forth one man's beliefs concerning the part three different ships played in World War II.
Charles H. Bogart of Frankfort, Kentucky is a frequent contributor and was named a 2011 Naval Historical Foundation Volunteer of the Year.