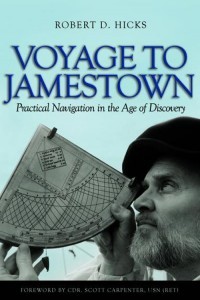 By Robert D. Hicks, Naval Institute Press, Annapolis MD. (2011)
Reviewed by Mark Lardas
When Britain's first North America colonies were established, transatlantic voyages were challenges analogous to trips to the Moon today. What did it take to sail the Atlantic four centuries ago?
Voyage to Jamestown: Practical Navigation in the Age of Discovery; by Robert D. Hicks, explores that question.
The book presents the trip as a fictionalized voyage of the ship Guyft as it sails from Bristol, England to Jamestown in the Virginia colonies in the last four months of 1611. The reader sees the voyage through the eyes of Tristram Hame, Guyft's captain, as he takes his ship from Bristol's docks to the James River.
While the voyage is fictionalized, Hicks's descriptions are based on hard fact and the results of a lifetime of research on the archeology of the era, study of navigational techniques then used, and seamanship acquired through practical experience.
Hame is based on an actual captain of the period, Tobias Felgate . Guyft is based on the 120-ton Susan Constant, flagship of the expedition that established Jamestown in 1607.
Hicks used a composite voyage to allow readers to better experience all aspects of a trip to the New World. During its journey Guyft fights foreign ships, visits mid-Atlantic islands, cruises Spanish waters, experiences death, and weathers a hurricane.
Hicks places each encounter and adventure in historical context. He details then-current legal theories, medical practices, and technology affecting the actions of Guyft and Hame. Hicks also explains the centrality of religion and shows that science was viewed differently. To Hame, "science is theoretical knowledge that could be ascertained with certainty."
The heart of Voyage to Jamestown is Hicks' explanation of the period's navigation. Hame is used to take the reader through the process of navigating a ship on a transoceanic voyage. Hicks provides detailed descriptions of the tools and methods that Hame would have used, the texts Hame would use as references, and the education available to navigators of that time.
To help modern readers, the book is copiously illustrated with period material and modern photographs. This includes photos of real and replica seventeenth century navigation tools, including many showing Hame (who bears a striking resemblance to Hicks) using these tools.
Voyage to Jamestown is a book that will fascinate a variety of audiences: those interested in history, readers with and interest in astronomy, or just those interested in vicariously sailing the seventeenth century Atlantic.
Mark Lardas, an engineer, freelance writer, amateur historian and model-maker, and former Shuttle navigators, lives in League City. His website is marklardas.com.