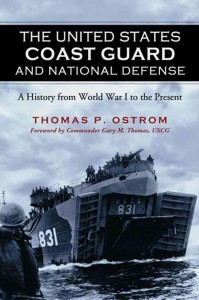 By Thomas P. Ostrom., McFarland & Company, Jefferson, NC. (2012).
Reviewed by Charles H. Bogart
Anyone interested in the United States Coast Guard will want to read this well-written and researched book. The book consists of fifteen chapters and three appendices. Each chapter and appendices is a stand-alone article on the history of the Coast Guard or a report on current Coast Guard operations. The chapters are 1) The Coast Guard from 1790 to 1920; 2) World War II operations; 3) Korean War operations, development of Loran, and duty in Alaska; 4) Incidents of the Cold War and Vietnam; 5) Providing logistical support and training in Indochina; 6) Cold War operational incidents which at times reflect credit on the Coast Guard and at other times do not; 7) Historical and current operations on the Great Lakes including search and rescue, law enforcement and navigational support; 8) Natural disaster response and involvement in the War on Terror at home and abroad; 9) Coast Guard aviation from 1919 to today; 10) Maritime Homeland Security responsibilities; 11) Military and humane support as provide in Kosovo, Iraq, and the Persian Gulf; 12) Port security here and abroad and combating piracy; 13) The Coast Guard today, its budgets, assets, and missions; 14) The Arctic Sea and national security operations and considerations; and 15) The Coast Guard Heritage. The three supporting appendices are, in truth, stand-alone chapters that continue to tell the story of the Coast Guard: A) Discusses Coast Guard operations during Prohibition and provides short biographical sketches of each Commandant from 1928 to 1990; B) Gives short biographical sketches of each Commandant from 1900 to 2010 and sets each one's accomplishment within the framework of government policies and budgets he/she had to work within; C) Is a status report on the Coast Guard in 2010.
I found the book very informative concerning the history of the Coast Guard and, more importantly, in learning about the Coast Guard's place within overall U. S. domestic and overseas policies. All of the chapters could be developed into book length treatments. I realize that the author was constrained by page limitations, but I wish he had more fully developed some of his chapters as he has raised some issues deserving of more research. Both the chapter on the Arctic Ocean and the one on the Great Lakes did not do justice to the range of topics the author touched upon. In addition, both Appendices A and B call for an individual to undertake a book that delves deeper into the background of each of the 20th century Commandants of the Coast Guard, and outlines the problems they faced, their response to these problems, and a critique of their term as Commandant.
This book goes a long way in providing basic information on today's Coast Guard. I would think that any reporter assigned to cover Coast Guard activities could perform a far better job after having read this book. This book deserves to be in the library of anyone interested in the Coast Guard or the workings of the U.S. government.
Charles H. Bogart is a frequent contributor to Naval History Book Reviews and was named a 2011 Naval Historical Foundation Volunteer of the Year.