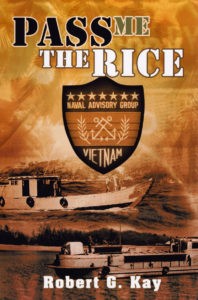 By Robert G. Kay, Author House, Bloomington, IN (2011).
Reviewed by Charles H. Bogart
In 1966, the author, as a Navy Lt. (JG) with his marriage collapsing in divorce, volunteered for duty as a Naval Advisor in Vietnam to allow him to refocus his life and to help his promotional opportunities.  Robert Kay would complete two back to back tours of duty in Vietnam, seeing combat with both a Vietnamese Junk Group and a River Assault Group. His second tour would end early after he was wounded by a booby trap that resulted in the loss of a foot. After being discharged from the Navy, Kay returned to Vietnam and served there as a DOD civilian employee until April 1975. The book, however, only covers his naval service in Vietnam from 1966 – 1969.
During his two years in Vietnam, the author filled three different positions. His first assignment was as a Naval Advisor, first with Coastal Group 45 based at Kien An and then with Coastal Group 41 at Poulo Obi. Kay was then brought to Saigon to serve as a newsletter editor at Naval Advisory Group Headquarters.  At the end of his tour, Kay, assured he would be assigned to River Assault Group 24 based at Binh Loi, volunteers for a second tour of duty in Vietnam. The job River Assault Group 24 is to patrol the Saigon River from Binh Loi Bridge north to Lai Thieu Phu Cuong. While the book is 557 pages long, it still only manages to give a broad outline of Kay's service in Vietnam.
The story the author tells is of weeks and months of boredom, punctuated by vicious short encounters with the enemy. During the course of Kay's tale, we meet all kinds of Americans and Vietnamese. They range from warriors to those who only want safe billets. However, the 1968 TET Offensive that would swirl around the author in Saigon would prove that no place was safe. His account of the death of four news media persons during the Battle in Saigon shows a complete lack of situation awareness on their part.
The book, while not a day to day account of the author's life in Vietnam, does give you a good insight into his day to day activities. Kay discusses, in graphic detail, not only his jobs with the U.S. Navy in Vietnam but also his rest and recreation among the native female population. It is obvious from his story of his life style in Vietnam that he fell in love with its people and culture and enjoyed its food and beverages.
The chapters on his assignment as Editor of the Naval Advisory Group newsletter are a very interesting read.  Kay, who had no experience as an editor, walks the reader through the steps he went through to eventually publish an award-winning newsletter. The thought process he went through is a classic case study of how to succeed when given a job for which you have no background:  Admit to yourself that you do not have the necessary skills and then seek support and guidance from those who do.
The chapters on his service with River Assault Group 24 bring one into the day to day activities of trying to stay alive and inflict maximum damage on the enemy. Kay reports on ambushes, death by friendly fire and accident, assaults upon enemy forces, sniper fire, and rough interrogations of enemy prisoners.  Center to this account is the ambush of a portion of the 9th NVA Regiment that leaves 150 of the enemy dead.
Despite its raunchy sex stories, the book has a lot going for it. Not only is it an enlightening tale about the U.S. Navy's involvement in Vietnam, but it can serve as a leadership guide on how to accomplish a mission. Kay often finds himself separated by time and distance from his supervising headquarters.  Unable to reach out for guidance, he and his fellow officers and men are forced to improvise to complete a mission or provide creature comforts. This is a good adult read of the U.S. Navy providing direct political assistance to a foreign country that has great relevance for today's Sailor.
Charles Bogart is a frequent contributor to Naval History Book Reviews and was named a 2011 Naval Historical Foundation Volunteer of the Year.