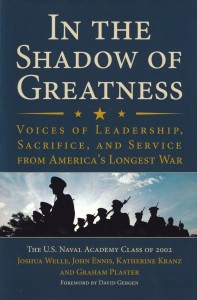 By Joshus Welle, John Ennis, Katherine Kranz, and Graham Plaster, Naval Institute Press, Annapolis, MD (2012)
Reviewed by Stephen Phillips
All midshipmen realize that they have volunteered for service. However, as they started the fall semester of their senior year, the U.S. Naval Academy Class of 2002 could not have predicted that they would become junior officers in the next global war.
In the Shadow of Greatness: Voices of Leadership, Sacrifice, and Service from America's Longest War is their story written in their words. The Class of 2002 discusses leadership, personal trials, and an insider's view of the war on terrorism at the tactical level.
As implied in the title, In the Shadow of Greatness includes stories of combat in Iraq and Afghanistan. The reader learns of Marine Corps officer Wes Pass serving in Karma, Iraq as he and his men fight insurgents house to house. Rocky Checca, another Marine, shares the difficult job of flying as a CASEVAC pilot transporting casualties…those wounded and killed in battle. Navy pilot Jay Consalvi describes a close air support mission, where he and his F-14 wingman conduct strafing and bombing runs to help troops in contact. Perhaps the most iconic story for the war on terrorism is Lieutenant Eric Jewell, a Navy Explosive Ordnance Disposal (EOD) Officer who describes disarming a vehicle borne improvised explosive device or "VBIED"…a car bomb…in Iraq.
In the Shadow of Greatness also highlights the fact that the U.S. fights this global war without instituting a draft. To enable an all volunteer force, many serve in individual augmentee roles. Officers who are assigned outside their career field, and certainly well beyond their comfort zones to serve in OIF and OEF as pseudo-soldiers or marines. For example, Courtney Senini, a surface warfare officer, served as part of the U.S. military assistance program training the Afghan army. She served with the Afghan National Army's Family Support Officers, a small number of women who educate and assist Afghan women, especially ANA dependants. As a result of the medical advice and assistance she provided during her tour, Ms. Senini will now pursue a career as a trauma nurse.
Naturally, members of the class of 2002 served in the traditional roles at sea onboard ships and submarines. Lucas Adin describes life as a plankowner, a member of the commissioning crew of USS Virginia, the Navy's lead boat in the newest class of submarines. Adin's early career is probably more typical for those in the fleet, with the added burdens of preparing a new submarine for acceptance by the Navy prior to its first sojourn at sea.
In the Shadow of Greatness will endure as an important first person narrative of this global war. Similarly, it will become an important read for midshipmen or junior officers to understand the challenges faced by those who served before them. Finally, it is simply a great anthology for fans of any military read.
Stephen Phillips is a 1992 graduate of the U.S. Naval Academy. He is the author of the recently published Naval Institute Press novel The Recipient's Son, which centers on the Naval Academy in the 1990s.