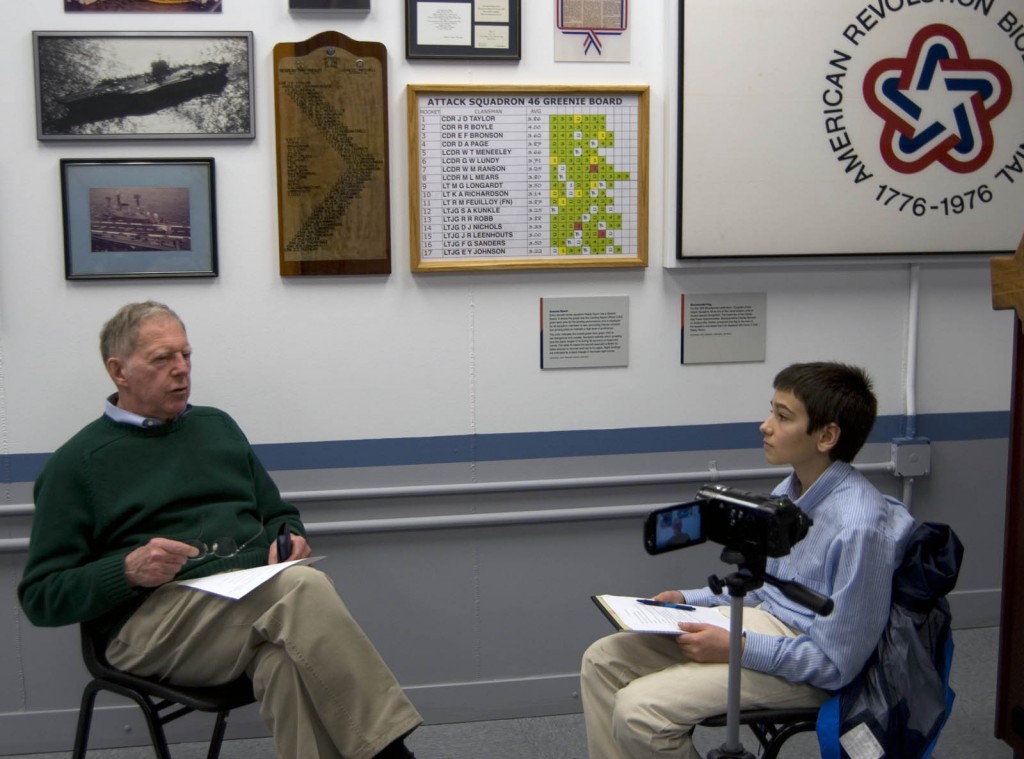 The Naval Historical Foundation has been involved with National History Day since 1999. Each year, we sponsor the Captain Kenneth Coskey National History Day prize, a $500 award to the participants whose project best captures an appreciation for naval history. Last year, we had the pleasure of awarding the prize to three middle school students from Anchorage, AK (read that story here). The highlight of the process is the rowdy, energetic final awards ceremony that we have the honor of sending a representative to.
Recently, we had the opportunity to help one of the students develop his project well in advance of the national finals. We were contacted by Dean Girdis, whose 8th grade son Alexei is developing a project about U.S. Navy aircraft carriers, to submit to this year's National History Day. This year's theme is "Turning Points in History: People, Ideas, Events." Alexei had interviewed several naval aviators, but what he really needed was a veteran who had commanded a carrier or carrier battle group. That wasn't a problem for us – we've been lucky enough to work for Vice Admiral Bob Dunn, former Deputy Chief of Naval Operations for Air Warfare, and until recently, President of the Naval Historical Foundation.
VADM Dunn graciously offered to meet Alexei and his dad at the Washington Navy Yard. Before the interview kicked off, the youngster was lucky enough to have a personal guided tour of the Cold War Gallery, from a three star admiral himself! With the conclusion of the tour, Alexei and VADM Dunn sat down in the Ready Room Theater to film the interview. VADM Dunn shared some key moments from his long service with the U.S. Navy, and Alexei was able to ask questions on a variety of topics. The conversation ranged from the influence of aircraft carriers on technology, how carriers have evolved over time, and how the use of carriers in battle changed history. All in all, it was a successful visit for all involved.
We thank VADM Dunn for taking the time for the interview, and we wish Alexei luck with his ongoing project!