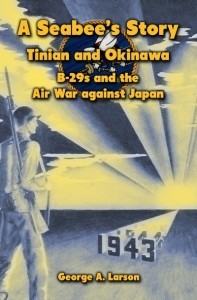 By Lt. Col. George A. Larson (USAF Ret.), Merriam Press, (2012).
Reviewed by Jan Churchill
The author says this book "is based, 50 per cent, on my father George W. Larson's World War II service with the 135th United States Naval Construction Battalion or Seabees."
It combines personal biography, first-hand accounts, military assessment, documents and historical facts into a fitting tribute to the Seabees, and the author's father. The book explores the details of becoming a Seabee, their training, and finally their diligence to the assigned task of constructing airfields that could accommodate B-29 bombers. The author's father worked on the runways and facilities at North Field on Tinian. Later he was assigned to build facilities on Okinawa to support the Allied invasion of Japan.
In 1981, while on active duty at Anderson Air Force Base on Guam, Lt. Col. Larson, with his father and his wife, visited Tinian Island. George W. Larson was able to see once more, where he had worked so hard during World War II. Larson commented, "On Tinian, for meals, officers and enlisted mingled freely, but I never sat with an officer while at Tinian, not feeling comfortable with them. Later my son was commissioned as an Air Force officer and I thought when he was commissioned, time had come full circle, from that of Carpenter Mate Third Class, USN, during World War II to that of a son as an officer. This really hit me when he was assigned to the island of Guam with the Strategic Air Command, assigned to the Pacific from 1978 to 1981, as I was on Tinian from 1944 to 1945."
In addition to capturing his father's recollections, in 1986 Larson attended a reunion of the 135th United States Naval Construction Battalion at Mobile, Alabama and attended a Martin-Nebraska plant workers reunion where he obtained interviews from men and women who built the B-29.  He also interviewed members of the 313th Bomber Wing.
In January 1942, George W. Larson went to work at the Ankeny Ordnance Plant in Kansas City where he helped produce .50 caliber machinegun ammunition. Later he joined the Seabees. The chapter on the training of a Seabee gives great detail of what the men were required to learn. The chapter "Seabees Land on Tinian" tells how all the construction equipment was transported. Larson reached Tinian on 24 October 1944. The book has detailed descriptions of the construction work accomplished by the 135th United States Naval Construction Battalion.
It is ultimately a story of Seabee ingenuity during of some of the most significant events of World War II in the Central Pacific on the islands of Tinian, Saipan, Guam, and Okinawa. After the capture of these islands, the Seabees built six large airfields for long-range heavy bombers. Other chapters cover: The Naval Engagement with the Japanese Mobile Fleet; Tinian's Capture; B-29 Operations; and the end of the war in the Pacific. Larson details the intricacies of building airfields for B-29s, not only for regular bombing, but also for the atomic bombs. Two atomic bombing missions were launched from Tinian's North Field.
The men worked around the clock, solving numerous construction engineering problems.  Prior to the U.S. invasion, Tinian had sugar cane fields, dirt roads, and a narrow gauge railway.  The native coral played a big part in the runway construction. The Japanese on the island, who had not been captured, presented another hazard as they would shoot at the workers.
However, the author did himself a disservice by not using a professional editor. This valuable personal story is rife with errors. Merriam Press (a publisher of World War II and military history) recommends to its authors "Every book should be edited by a professional." The text is accompanied by numerous vintage photos; also maps, diagrams, and lists of crews. The numerous "Notes" are somewhat confusing. There is a list of Sources, but no Index.
Despite its problems A Seabee's Story is worth reading to gain insight about the magnificent job accomplished by the Seabees on Tinian. It was aptly called a "Miracle of Construction" as the Seabees were able to overcome the lack of materials on Tinian Island to construct the required airfields.
A pilot, Jan Churchill has authored several books on military aviation history.