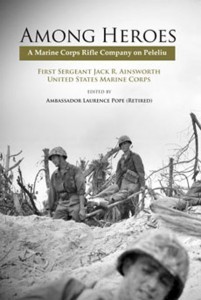 By First Sergeant Jack R. Ainsworth, USMC, Edited by Ambassador Laurence Pope (Retired), U.S. Marine Corps History Division, Quantico, VA (2011)
Reviewed by Colonel Curt Marsh, USMCR Retired
This small book Among Heroes, published by the U.S. Marine Corps History Division,  is a fairly quick read and well worth the effort. The book is actually a compilation of notes taken by First Sergeant Jack Ainsworth of Company C, 1st Battalion, 1st Marines during the battle on Peleliu. It covers the period from their landing on D-Day September 15, 1944 until they were pulled from the front lines on September 20th. 1stSgt Ainsworth apparently went over his written notes and typed them up shortly after the battle probably during R&R at Pavuvu. Ambassador Pope's father, then Captain Everett P. Pope, was the Company Commander of Company C and received the Medal of Honor for his actions during this period. The interesting twist is that these typewritten notes were found by Pope when he was going through his father's papers only a few months before his death in 2009.
General Anthony Zinni's Foreword provides some context to the battle for the island of Peleliu. It was a very brutal fight with the Japanese marked by close combat over very difficult and well-fortified terrain. It was also notable for somewhat questionable leadership by the senior Marines in charge. This included 1st Marine Division Commanding General, MajGen William H. Rupertus and the Commanding Officer of the 1st Marines, Colonel Lewis "Chesty" Puller. There was intense pressure to defeat the Japanese as quickly as possible, but that resulted in unsupported infantry assaults over difficult terrain against integrated Japanese fortifications. Company C was a lead element in one such assault that demonstrated their immense courage and determination both as individuals and as a fighting unit.
Pope worked with the USMC Historical Branch to obtain the official history of these events. He also provides some background information on 1stSgt Ainsworth who was only 26 in September 1944, but had served with the Marines in Shanghai before the war.   Footnotes are provided along with a Postscript that provide some comparative information between the notes and the official Marine Corps history of the battle.
1stSgt Ainsworth's narrative is clearly of his view of events. He primarily held down the Company Command Post so he was typically in the middle of the action and privy to a lot of information to include radio communications with higher command and adjacent units, as well as the combat actions of Co C and its casualties. He also provides a perspective as a loyal member of his Company, so he was proud of his men and sometimes critical of other units support even though the facts may have not fully supported his criticism.   He would apparently write down some notes on what was happening whenever he had an opportunity during the battle. So we see the progression of events as they were happening.
To quote from the book's Preface written by Pope:
Reflecting on awards after the battle, Ainsworth writes that "to name one for outstanding performance would be showing marked partiality." My father felt the same way, and he always said that he wore the Medal of Honor for the men of Co C, 1st Bn, 1st Mar.
A visitor to the National Museum of the Marine Corps outside Quantico today can hear his recorded voice say that he was not a hero, but that on Peleliu he had been among heroes. Sergeant Ainsworth's narrative is proof that he was right, at least about the second part of that statement.
This very personal narrative of the battle for Peleliu provides an outstanding perspective of a difficult fight that is often lost in the overarching "official" history describing the entire battle. Pope notes that there are several firsthand accounts of Peleliu but they were written well after the events. These include Robert Leckie's Helmet for my Pillow and Eugene B. Sledge's With the Old Breed at Peleliu and Okinawa, both used for HBO's mini-series The Pacific. 1stSgt Ainsworth's narrative stands out among these other notable books for its raw account of the battle and is well worth reading.
Curt Marsh is a retired Marine Corps officer and Naval Aviator who flew the A-4M Skyhawk. He is now a contractor supporting the FAA.