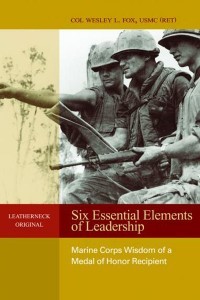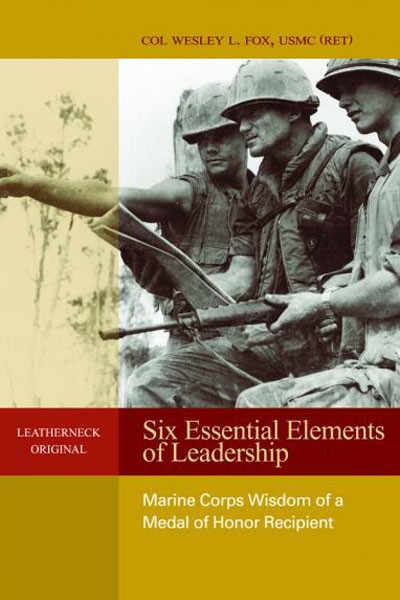 By Colonel Wesley L. Fox, USMC (Ret.), Naval Institute Press, Annapolis, MD (2011)
Reviewed by Jan Churchill
Medal of Honor Recipient Col. Wesley L. Fox dedicated this book "To the Marines of yesterday whose personal sacrifices demonstrated the leadership traits addressed in this work." He discusses how his superiors and fellow Marines impressed him with their leadership style as they guided, directed, and led others, their followers.
Drawing on forty-three years of leading Marines in two wars and in peacetime, Fox defines the six elements of leadership essential to building a successful organization.
The first section, titled "Leadership," has five chapters explaining Leadership Defined, Leadership versus Management, Sources of Leaders, Principles of Leadership, and Historical Traits of a Leader. His six essential elements of leadership: Care, Personality, Knowledge, Motivation, Commitment, and Communication is covered with a chapter on each element, with explanations on how his views of leadership were forged.
The author examines the difference between leading and managing. He stresses that leadership is people oriented, and that leaders must do more than managers who direct. Fox explains how leaders can create and influence followers, stressing that leadership goes deeper than authority. Fox insists that a good leader must focus on building an organization based on the bonds of comradeship. These leaders will be better prepared to cope with any challenge because they are part of a group built on loyalty and trust.
Fox also discusses problems in society today that interfere with leadership. He is negative about modern society, citing a lack of parental interest, as well as other deficiencies.
Fox points out good leaders will evaluate themselves. Commenting on leadership in the U.S. military chain of command, the author outlines commonsense thoughts on the traits a person desiring to be a leader should possess and exercise. Many examples of leadership are quoted from the sixteen authors of books on leadership that are listed in this book's "Sources" in the Appendix. Fox also suggests, many times, that readers of this book also read his Memoirs for a complete understanding of the points he is making.
Section II of this book discusses "The Essential Elements of Leadership" which are: Care, Personality, Knowledge, Motivation, Commitment, and Communication. He presents a chapter on each element and explains how his views of leadership were forged and offers examples of leadership displayed by fellow Marines. Commitment is the essential element in the decision making process.
Fox explains that leadership must be above reproach. The author emphasizes points for a young leader as he details the knowledge required for attaining a leadership position. Fox also mentions his loss of motivation for a negative time he experienced while serving in the Korean War due to shortcomings of poor leadership in the Army. While the author criticizes others for deficiencies in leadership, he also points to deficiencies in himself. He gives examples of good and bad leadership in himself and others which serve to make the term "leadership" come alive.
The final section covers "Marines Corps Combat Leadership,Personal Experiences and Viewpoints." Fox skillfully relates his experiences and the examples of fellow Marine leaders to build the roadmap to leadership success. The author says that the key point of leading others in any situation is the ability to handle stress. Also, setting a good example is a big part of leadership in the Marine Corps. Fox contends that his six essential elements of leadership apply equally to the military and civilian communities at all levels. There are excellent suggestions for civilian business and nonprofit groups, as well as military leaders.
Fox has spent a lifetime studying leadership. While Fox draws directly from his military experience, his comments apply to all who want to pursue effective leadership. This book will inspire and motivate both civilians and members of the military. Six Essential Elements of Leadership" is must reading for those aspiring to become effective leaders, be they military or civilian.
Jan Churchill is an author and pilot. She is the Director for the Delaware Military Heritage and Education Foundation and Curator of the Delaware Military Museum.