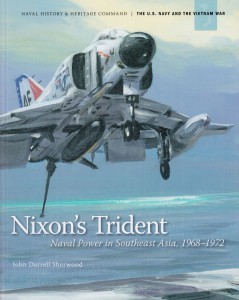 To commemorate the 50th anniversary of the conflict in Southeast Asia, the Naval Historical Foundation and the Naval History and Heritage Command are cosponsoring a series of monographs entitled The U.S. Navy and the Vietnam War.
Soon to be published in that series is a lavishly illustrated work on the Navy's "in-country war" entitled Combat at Close Quarters: Warfare on the Rivers and Canals of Vietnam by Edward J. Marolda and R. Blake Dunnavent. They describe in vivid detail the experiences of Navy Swift Boat and River Patrol Boat crews, naval advisors, soldiers and sailors of the joint-service Mobile Riverine Force, SEALs, and mine warfare specialists. The narrative also relates the development and combat performance of the Vietnam Navy during the Tet Offensive of 1968, the Cambodian incursion of 1970, and climactic naval operations at the very end of the war in 1975.
The U.S. Navy and the Vietnam War series, co-edited by Marolda, former Senior Historian of the Navy, and Ms. Sandra Doyle of NHHC, will feature the Navy's role in the bombing campaigns in North Vietnam and Laos, the fight for South Vietnam's inland waterways, anti-infiltration patrols, military sealift, medical care, and the POW experience of Navy and Marine Corps personnel who fell into enemy hands. Already published and available through the Government Publishing Office are the following titles: The Approaching Storm: Conflict in Asia, 1945-1965 by Marolda that puts the war in historical context; Nixon's Trident: Naval Power in Southeast Asia, 1968-1972 by widely published naval  historian John Darrell Sherwood that covers the Linebacker bombing campaign; Navy Medicine in Vietnam: Passage to Freedom to the Fall of Saigon by distinguished medical historian Jan K. Herman treating the role of Navy doctors, nurses, and hospital corpsmen; The Battle Behind Bars: Navy and Marine POWs in the Vietnam War by Stuart I. Rochester, late co-author (with Frederick Kiley) of the definitive work, Honor Bound: American Prisoners of War in Southeast Asia, 1961-1973.
Follow-on publications will include Thunder From the Sea: The Rolling Thunder Campaign by distinguished scholars Norman Polmar and Marolda; The End of the Saga: Seaborne Evacuation from Indochina by renowned historian Malcolm Muir; Maritime Logistics: Seaborne Support of the Long War by Salvatore Mercogliano; Knowing the Enemy: Naval Intelligence in Southeast Asia by naval intelligence historian Richard A. Mobley; and Admirals Under Fire: Navy Leaders of the Vietnam War by Marolda.