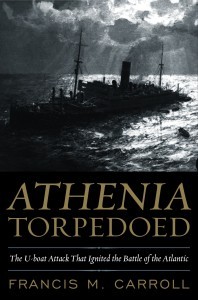 By Francis M. Carroll, Naval Institute Press, Annapolis, MD. (2012)
Reviewed by David Kronenfeld
Athenia Torpedoed is the latest work by Canadian history professor Francis M. Carroll. The author of ten books, Professor Carroll is currently professor emeritus at the University of Manitoba. Athenia Torpedoed documents the passenger ship Athenia's background, sailing, sinking, and resulting personal and political fallout. Carroll painstakingly compiled dozens of first-hand accounts from crew, passengers and rescuers to paint a complete picture of the events surrounding the sinking of the first Allied vessel lost to U-boats in what became known as the Battle of the Atlantic.
Carroll uses the first ten percent of his book to set the stage for the opening shots of World War II. Although this section will be review for most readers, Carroll's brief description of foreign affairs in 1930's Europe assists the reader in grasping the backdrop for the coming Athenia drama. For instructors looking to use the book as supplemental reading in a World War II history class or diplomatic history class, the introduction provides a succinct summation.
Due to his extensive research, Professor Carroll provides a detailed play-by-play of the various moving pieces involved in the Athenia's sailing. From descriptions of lifeboat preparations to blackout provisions to last minute re-bookings by passengers, Carroll brings to life the otherwise droll happenings both onboard and ashore as the Athenia prepared to embark upon her final voyage.
For many readers, the meat of Carroll's story will come only after the ship has begun sinking and the passengers and crew must take to the lifeboats. Carroll weaves together the accounts of both survivors and rescuers to describe the response of several ships to Athenia's distress calls and the subsequent effects of the sinking on the survivors. Carroll effectively relates the plight of several families who experienced separation on different continents as a result of being picked up by different rescue ships as well as the sad tales of families who lost one or more family members in the sinking.
Academics and historians will perhaps be most interested in Carroll's description and analysis of the German actions before and after the sinking as well as the ripple effect the sinking had on German-American and Anglo-American relations.
Overall, Professor Carroll has provided the reader with a succinct (158 pages plus endnotes) summation of a significant event in the history of World War II. While the sinking of the Athenia was of little military consequence, it functioned to escalate the conflict from a mere two-nation affair to a European conflagration. In sum, Professor Carroll has contributed a readily accessible volume for anyone desiring to better understand the opening salvoes of World War II.
David Kronenfeld is a corporate attorney and maintains the blog www.shipwreckology.com