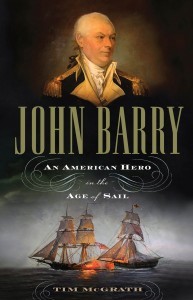 By Tim MacGrath, Westholme Publishing, Yardley, PA, (2010).
Reviewed by Mark Lardas
John Barry and John Paul Jones are the twin pillars underpinning the foundations of the United States Navy. Their naval careers created a heritage used by the Navy to the present. Jones's life and exploits have inspired hundreds of books.
Sadly, Barry's appeal has been more selective. John Barry: An American Hero in the Age of Sail by Tim MacGrath is the first serious of study Barry's life written in the last 50 years.
MacGrath's book takes a fresh look at Barry, including a re-examination of available primary sources. The result is a biography that strips accreted myths about Barry to display Barry's impressive real accomplishments.
MacGrath reveals John Barry did not fight at Trenton, nor was the "Captain Barry" sent as an envoy to Cornwallis after Princeton. Yet Barry fought at Princeton, and captained the Continental Navy warships that took the first and the final Royal Navy warships captured during the American Revolution. MacGrath also discloses a minor yet critical role Barry played in the ratification of the United States Constitution.
MacGrath places Barry's naval commissions (in the Continental Navy during the American Revolution and the United States Navy after 1794) within the context of Barry's overall maritime career. MacGrath presents Barry's successful career as a merchant captain prior to the American Revolution, his occasional employment commanding a privateer during the American Revolution, and Barry's sole voyage commanding a merchantman to China after the Revolution.
The biography also illustrates life at sea during this era, including a description of a surgery performed on Barry during a battle, and detailed explanations of maritime evolutions which Barry performed as a merchant and naval captain. MacGrath also examines Barry's two marriages, his family life, and Barry's relations with his siblings and their children. Admirably, when the historical record yields blanks, MacGrath resists the temptation to fill them in with speculation. Instead he informs readers as to these limitations and moves on.
The book is reliable within the context of Barry's life, yet it contains errors with regard to the Royal Navy. (One example:  MacGrath consistently refers to British 44-gun and 50-gun two-deckers as frigates or ships-of-the line. Two-deckers were a separate class of ships, revived by the Royal Navy during the American Revolution to operate in North American waters.) These are minor, and will be caught only by naval specialists.
Regardless, John Barry is a book that anyone interested in the Continental Navy or the early Federal Navy will want on their bookshelf. Tim MacGrath is to be commended for a fresh and detailed look at an often-overlooked American naval hero.
Mark Lardas is the author of numerous books, including the recent "Bonhomme Richard vs. Serapis: Flamborough Head 1779" by Osprey.