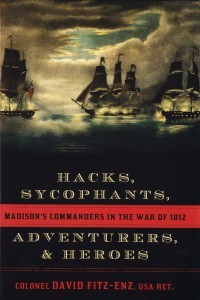 By David Fitz-Enz, Taylor Trade Publishing, New York, (2012).
Reviewed by Thomas Sheppard
While the literature on the War of 1812 is extensive – and growing rapidly amid bicentennial celebrations – David Fitz-Enz laments that few have the time or inclination to wade through most of the books published on the conflict, leading to widespread ignorance among Americans about this crucial moment in our national development. To make his analysis more digestible to popular readers, Fitz-Enz presents the War of 1812 through a series of mostly independent biographical sketches of the key leaders on the American side. Some proved highly competent and gained laurels for their country, while others sought only their own advancement or proved woefully inept and cost the United States dearly in resources, prestige, and lives. Yet this work concludes that, for all the flawed individuals that America sent into battle during the war, the heroic actions of its good leaders more than compensated, and America emerged stronger from having battled the British.
A decorated Vietnam veteran who spent over thirty years serving in the United States Army, Fitz-Enz's has contributed to a host of historical television programming, including PBS's documentary on the Battle of Plattsburg, The Final Invasion. That dramatic victory is also recounted here, with Thomas Macdonough clearly depicted as one of the "heroes" mentioned in the title. In addition, men like Andrew Jackson or Winfield Scott used exceptional leadership skills, a strong sense of duty, and great personal courage to win great victories. Other figures do not fare so well in Fitz-Enz's discussion. Several government officials and military leaders were, like "civilian in uniform" Jacob Brown, "driven by personal ambition to please (their political bosses) for personal gain," (123). Entrusting such "hacks," "sycophants," and "adventurers" as these with power led only to disaster. Interestingly, though James Madison's name is included in the title, his own leadership as a wartime president escapes analysis, though the implication that his record choosing subordinates was spotty at best certainly comes through.
The book's unique structure can be beneficial to the reader, but it poses problems as well. Fitz-Enz might be justly criticized for not tying his various sketches together in a stronger overall narrative, and he makes somewhat odd choices in his arrangement. For example, Andrew Jackson's spectacular victory at New Orleans, which occurred after the war's end, is discussed in the second chapter. Still, non-specialists with limited knowledge of the conflict will likely enjoy the book's untraditional formatting, which will enable them to easily digest the stories of most of the principle figures of the war on the American side, and it makes an excellent starting point for those looking for more information on specific individuals.
Popular readers, however, will likely also be put off by Fitz-Enz's frustrating use of block quotes throughout the text. In almost every chapter, he gives his readers three to four page excerpts from battle reports or official correspondence, rather than narrate events himself. And scattered throughout the work are far too many paragraph-length quotes where engaging descriptions, rather than dry formal correspondence, would have served readers far better. While the use of such quotations demonstrates that Fitz-Enz is well versed in the published primary sources of the war, his secondary bibliography is quite thin, and his lack of historiographical context shows. For example, a broader reading in the literature on the American Navy might have prevented puzzling assertions such as his claim that "there was no regular structure in the U.S. Navy…no government yards, depots, procurement, or personnel" a patently false statement that could have been avoided by the perusal of any one of several secondary works on the American Navy (25). Given its problems, scholars should be extremely cautious about assigning this text to students. That said, when not letting block quotes tell the story for him, Fitz-Enz writes an engaging monograph that will surely please popular readers and, one hopes, accomplish his goal of making the war more accessible to the American public.
Thomas Sheppard is a Ph.D. candidate at The University of North Carolina at Chapel Hill. He is currently working on a dissertation project on civilian control of the military in the United States Navy in the early republic.