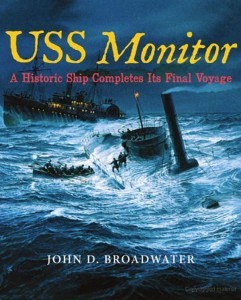 By John D. Broadwater, foreword by James P. Delgado. Texas A&M University Press, College Station, TX (2012).
Reviewed by Kenneth J. Blume, Ph.D.
Although she had a career of less than one year, USS Monitor is arguably America's most famous warship. Furthermore, locating and recovering Monitor form one of the great stories of maritime archaeology of the past four decades. The author of this volume, John Broadwater, is well-qualified to tell this story because he worked on the Monitor project for decades.
While providing a concise history, including its construction in just over 100 days, its legendary battle at Hampton Roads, and its tragic loss off Cape Hatteras, the bulk of the volume focuses on the four-decade project of finding and preserving Monitor.
As James P. Delgado indicates, "this ship, and its saga, are first and foremost a human story." (p. x) This personal account of Broadwater's experiences on the Monitor project stands as a case study about historic wrecks—how to locate, investigate, and protect/preserve/recover them.
Broadwater tells the story of Monitor's active career in vivid detail and then provides the less well-known details of the vessel's final hours on 30/31 December 1862, when she sank en route to Beaufort, North Carolina. Broadwater's detailed account is riveting. Battling strong winds and high seas, Monitor lost her port towline and soon thereafter was fully loose. Broadwater provides stunning descriptions of Monitor riding one wave and then plunging under/through the next. By 10:30 p.m. Monitor 's officers had concluded that the ironclad could not be saved. At about 1:30 a.m., 31 December, Monitor sank. According to Paymaster William F. Keeler, "What the fire of the enemy failed to do, the elements have accomplished." (p. 13)
Attempts to locate Monitor began after World War II: first in May 1950, and then in July 1955. Finally, in August 1973 an expedition identified the upside down wreck, identification that was formally announced in March 1974. By October 1974 mapping cruises had produced a remarkable photomosaic of the vessel. Broadwater describes these 1973/1974 expeditions in considerable detail, a step by step account whose slow pace reinforces the important point that this project did require slow and painstaking work.
Recovery of key artifacts–including the signal lantern, the anchor, the propeller, the steam engine, and finally the gigantic and iconic gun turret—was filled with drama and emotion, especially when the archaeologists discovered the skeletal remains of two crewmembers buried in the sediment of the turret. An equally important development was the creation in 1973 of NOAA's National Marine Sanctuary Program and the designation of Monitor as the first National Marine Sanctuary in 1975.
One of the fascinating dynamics of the recovery and preservation efforts was the cooperation of a wide range of government and private entities to accomplish their common goals. For example, the recovery of Monitor 's turret involved: NOAA's National Marine Sanctuary Program; the U.S. Navy's Supervisor of Salvage, Naval Sea Systems Command; the U.S. Navy Mobile Diving and Salvage Unit TWO; Phoenix International, Inc. (the Navy salvage contractor); The Mariners' Museum; Newport News Shipbuilding; and the U.S. Coast Guard.
Whether Monitor should be recovered was explored and debated extensively at an April 1978 conference. One proposal called for literally scooping the wreck and the surrounding seabed and raising it to the surface. Ultimately, however, a more middle of the road approach was adopted: careful examination, recovery of artifacts, and in situ preservation.
One argument against complete recovery claimed Monitor was too fragile and could best be preserved on the seabed. But another consideration—which Broadwater doesn't explore—must have been cost. Funding for recovery/preservation efforts was never a guarantee, and the groups often lived from grant to grant. For example, Congress ordered a Monitor Comprehensive Plan but failed to appropriate any funds to implement the plan. A question never addressed in the book is what the approximate cost of the four-decade project was. Surely it would be astonishingly high, and surely someone could do an estimate. Of course, should that be a factor in thinking about what was accomplished? But consider the expense—in actual payment or in "time spent": some 45 expeditions from 1973 to 2009; in 2000 over 300 Navy and NOAA divers logging some 160 hours on the bottom; and the 2002 turret recovery involving 142 Navy divers logging 928 hours on the bottom. In addition, over the years, operations required a vast fleet of specialized vessels and equipment, some designed specifically for this project. The general public might be surprised and might raise a collective eyebrow and grumble about "government waste."
But consider what we have learned. The sheer scale of artifacts recovered from Monitor, and insights into John Ericsson's technological innovations, the events leading up to the sinking, and how the seamen died, all put the cost into a different perspective. Consider simply the turret. Over 400 objects were uncovered once the turret had been brought to the land—including a ring, comb, boot, lantern, silverware, buttons—and even more moving and important, the remains of two seamen. In all, over 100 tons of material were recovered from the Monitor—impressive statistics. But what it all meant to those working on the project, the emotions that everyone felt, is equally evident in Broadwater's narrative. When Monitor's turret made its last voyage, to the Mariners' Museum, team member Jeff Johnston exclaimed, "She's home now. She's really home." (189)
This book is a visual feast, with a rich selection of contemporary images and diagrams, and numerous first-rate illustrations—including maps, historic photos, diagrams, dramatic underwater photographs, images of the ships and equipment used during the project, and the restoration efforts. But this reviewer does have a few gripes. Sometimes the narrative gets repetitive and overly detailed and would have benefitted from occasional judicious pruning. In addition, a copy editor should have caught a number of typographical errors and, significantly, footnotes for the book's Epilogue have been omitted.
Quibbles aside, this is a remarkable book that provides a broader and deeper appreciation for the greatness of John Ericsson's Monitor and for the work of nautical archaeologists who retrieve and preserve our maritime legacy. Anyone interested in Civil War naval history, Monitor specifically, or the work of nautical archaeologists, should own USS Monitor: A Historic Ship Completes Its Final Voyage.
Dr. Blume is a Professor of History with the Dept. of Humanities and Communication at the Albany College of Pharmacy and Health Sciences