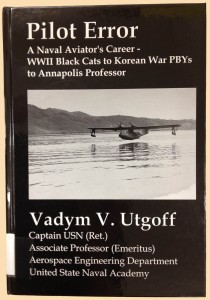 By Capt. Vadym V. Utgoff., NRA Associates, Annapolis, MD. (2006).
Reviewed by Charles Bogart
This is the story of one man's love affair with flying. We follow the author's path from growing up as the child of an immigrant Russian naval officer; entrance into the Naval Academy; winning his naval wings; service in PBYs in the South Pacific; commanding a PBM squadron during the Korean War; post war naval service at Whidbey Island, Dahlgren Proving Grounds, and NAS Sigonella; and as professor of Aerospace Engineering at the Naval Academy following retirement from the Navy. The author fills his book with enough stories of potential and actual flight mishaps; he was involved in or witnessed, to provide Grampaw Pettibone with material for a decade of writing. The author's own aircraft mishaps are all given in a three phase account: how I got into the problem, how I got out of the problem, and what I learned from that.
Captain Utgoff's World War II service was with VPB-34 flying PBY aircraft. The Squadron, when he joined, was involved in anti-submarine duties over the Caribbean Sea during 1942 and early 1943. In July 1943, the Squadron was ordered to the South Pacific Theater. Here VPB-34 would become a component of the legendary anti-shipping Black Cats. VPB-34, during its service in the southwest Pacific, would conduct long distance night time patrols attacking Japanese shipping targets of opportunity. The account the author provides of these aerial attacks is well-written and gives a clear idea of the difficulties the pilot and crew had to overcome to successfully complete a mission. In 1944, as a Lieutenant Commander, Utgoff would assume command of VPB-34. When relieved of command of VPB-34, he returned stateside and took command of VPB-91, flying PBY-5As.
Following the war Utgoff returned to school concentrating on aeronautical engineering. Following graduation in 1950, he took command of VP-40, which was flying PBM's, and led them to action in Korea. His account of being a commanding officer during wartime provides insight into a number of issues of command: accident investigation, pilots turning in their wings, and enforcing discipline. In 1952, he returned stateside and went to work for the Office of Naval Research. Two years later he reported on board USS Valley Forge (CVS 45) as operations officer. After a year on board Valley Forge, the author was detached and assigned to the staff of Commander Fleet Air Whidbey Island. While at Whidbey, the author's brother Vic was killed flying the experimental P6M Seamaster. The author provides a clear account of what caused this aircraft to crash.
At Whidbey, the author flew R4Ds, R5Ds, P2V-5Fs, and P5M-2s. There are a number of learning curve stories. After 11 months at Whidbey, the author, in November 1957, was ordered to Dahlgren Proving Grounds. While at Dahlgren, the author was diagnosed as having diabetes. He spends considerable time discussing the psychological problems he experienced from what later turned out to be a misdiagnosis. The author completed his service with the Navy as Commanding Officer, NAS Sigonella, 1961-1963. This chapter has little on NAS Sigonella but instead concentrates on lessons he learned on being over confident while flying various aircraft.
The book closes with the author recounting his time at MIT earning an advanced degree in Aerospace Engineering, then being hired as an instructor by the Naval Academy, and his efforts to build an accredited Aerospace Engineering Department at the Academy. This account is far too short to give one a true idea of how this Department went from concept to a fully functioning entity.
This is a well-written book that provides information on being a naval officer and a pilot. Each reader of this book will come away with a better understanding of naval aviation development during the 1940s and 1950s. I enjoyed the book and would recommend it to anyone who is a pilot or thinking of becoming a pilot, for the lessons learned accounts within the book.
Charles H. Bogart was recently named a 2011 Naval Historical Foundation Volunteer of the Year for his work with Naval History Book Reviews.