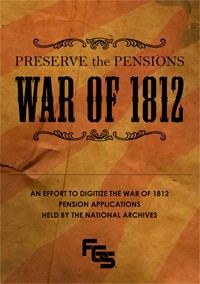 Recently the Federation of Genealogical Societies announced the donation of $135,000 to the "Preserve the Pensions" War of 1812 Pension Project. The donation is a generous gift from the estate of the late Jon Stedman in memory of his mother, Ardath Stedman. It will be used to help preserve and digitize the War of 1812 Pension records for all services (Army, Marine, and Navy).
In conjunction with the National Archives & Records Administration, fold3, and Ancestry.com, FGS is helping to digitize 180,000 extremely fragile pension applications representing an estimated 7.2 million pages of War of 1812 Pension and Bounty Land Warrant Application Files. This year marks the 200th anniversary of the start of the War of 1812, a war many consider our country's second Revolutionary War, which gave the nation a sense of complete independence from Great Britain.
FGS is leading the national fundraising to support this project and is actively seeking donations from genealogical and historical societies, patriotic and military heritage societies, as well as interested corporations and individuals. Ancestry.com and fold3 are providing a dollar-for-dollar match of each donation through a provision of services. This $135,000 donation is a great boost as FGS ramps up its fundraising efforts for this multi-year project during the bicentennial of the War of 1812 which started on June 18, 2012. Members of the genealogy and family history communities as well as the general public are invited to learn more about this important record preservation project by visiting the Preserve the Pensions website at www.fgs.org/1812 and assist with honoring our nation's heritage by preserving the records of our past.
The collection will be available for free at www.fold3.com/title_761/war_of_1812_pension_files.