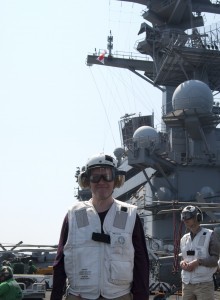 NHF Digital Historian Dave Colamaria had the opportunity to embark on board the Navy's newest aircraft carrier, USS George H.W. Bush (CVN 77) for a 24 hour visit in late June. NHF has worked closely with Navy Recruiting District, Richmond over the past two years on the NHF STEM-H Teacher Fellowship Program. The June embark was part of the Navy's "Educator to Sea" program. Along with Colamaria, a number of college professors and high school educators flew out to USS George H.W. Bush for an arrested landing in a C-2 Greyhound transport aircraft, also known as a "COD" or "carrier onboard delivery." The nuclear powered carrier was off the coast of Virginia to allow aviators the chance to attempt carrier qualifications. Upon landing, the educators had the once in a lifetime opportunity to see the sailors of the U.S. Navy in action over a 24 hour period. The educators also had the chance to chat with each other and discuss their research and its importance to the future of the Navy.
The ship's commanding officer, Captain Brian "Lex" Luther, greeted the distinguished visitors upon landing and kicked off an extensive tour of the ship. Following his warm welcome, which included some wonderful anecdotes about visits by the ship's namesake, President George H.W. Bush, the visitors were given a safety briefing and then escorted out to the flight deck to observe C-2 Greyhound and E-2 Hawkeye aircraft performing arrested landings, and being launched by catapult. They then began a lengthy tour of the interior spaces of the ship. Over the course of the next evening and morning, they visited spaces from the top of the carrier's island (Primary Flight) to spaces down below deck including the vast hangar bay and aircraft engine maintenance shop. They shared several meals in the wardroom and had a first hand look at the galley, bakery, and refrigerated storage spaces. At every stop, the visitors had the opportunity to speak with the men and women serving in uniform. Without exception, they proved to be enthusiastic and motivated, and highly knowledgeable about their profession.
The tour ended with a thrilling catapult shot in a C-2 Greyhound, an experience that none of the visitors will ever forget. Many thanks go out to the captain and crew of USS George H.W. Bush, and the great folks at Navy Recruiting District, Richmond who facilitated this amazing experience.