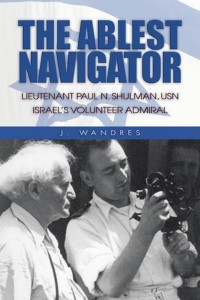 By J. Wandres, Naval Institute Press, Annapolis, MD (2010).
Reviewed by Kempton Baldridge
It is a special treat to learn about a 20th century naval hero who has, until now been little more than a footnote in history. The name Paul Shulman might not ring any bells for many naval historians, but thanks to the well-researched biography by J. Wandres, The Ablest Navigator, the name should be an inspiration not just to young naval officers, but also to young Jews.
Through articles, interviews, oral histories and exhaustive archival research, Wandres has pieced together a portrait of a young New York Jew who served in the U.S. Navy during World War II only to later immigrate to Israel and volunteer in the Israeli War of Independence. Immediately following the war, Shulman oversaw the purchase of many surplus vessels that helped in the Jewish Exodus of 1946-1948. Later, through his close friendship with David Ben-Gurion, Israel's first Prime Minister, Shulman essentially set up the modern Israeli Navy, becoming its first admiral at the age of 26. This is a new story of naval history, and adds much to the scholarly study of not only U.S. Navy and Israeli history, but also the American Jewish experience.
Furthermore, it makes a strong case why the name Paul Shulman should be held in equal reverence to Uriah Levy, the Navy's first Jewish Commodore. Although it may be true that Shulman did not achieve greatness while serving in the American Navy, Wandres notes the dedication he had to the Zionist cause and how the skills he learnt as midshipman at Annapolis served him well in setting up the first Israeli naval academy.
Wandres has done an admirable amount of research, as evident from his detailed bibliography, endnote and glossary of modern Hebrew terms that was very useful for understanding the book. However, since many of his endnotes are written in such depth, it is rather difficult to read at times; flipping back and forth between the chapter and the back of the book. The history of Zionism and Israel is, of course, necessary for Paul Shulman's story to be told, however this is sometimes done in a confusing manner. For instance, the last chapter of the book tells of the history of modern Zionism and Israel pre-1947; this would be much better placed at the beginning of the book.
J. Wandres, a retired Navy public affairs officer who has written articles in a variety of military magazines including Naval History and All Hands has shed new light on the part that American Jews played in Israeli independence in a way that is both interesting to naval historians and comprehensive to a casual non-fiction reader.
Kempton Baldridge is a graduate of Johns Hopkins University with a major in history and recently returned from teaching English in the Marshall Islands.