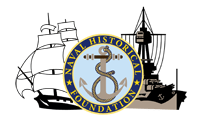 The Naval Historical Foundation (NHF) seeks a full-time Development Director who will support the Navy's premier non-profit historical organization by being responsible for fundraising (outright and planned gifts) and membership growth. The Development Director will be responsible for strategy and implementation of programs related to the NHF's fundraising initiatives. The Development Director reports directly to the Executive Director of the Naval Historical Foundation. This position is based in Washington, D.C., at the Washington Navy Yard.
The successful candidate will have three to five (3-5) years' experience in fundraising activities related to the tasks defined above with relevant training and recognition by established professional organizations.  A bachelor's degree is required. The Development Director should be mature, poised, and articulate with outstanding interpersonal and communication skills, especially the ability to listen effectively, write clearly, and speak to groups. He/she must be well organized, attentive to detail, able to work independently, and meet deadlines. The successful candidate should have or demonstrate an ability to build a working knowledge of the U.S. Navy's organization, history, culture and values as well as be proficient in computer-based and online search and database tools.
Qualified candidates should submit a cover letter and resume with three confidential references to Executive Director Captain Charles T. Creekman, USN (Ret.) at ccreekman@navyhistory.org.
Deadline for submissions is 15 July 2012.