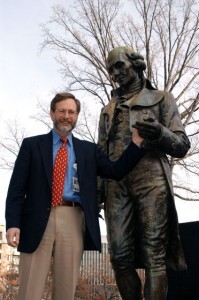 On 1 June 2012, after 42 years of federal service, and 33 years as Historian for the Navy Medical Department, Jan K. Herman retired.
Since coming to the Bureau of Medicine and Surgery (BUMED) in 1979, Mr. Herman has worked as Historian of the Navy Medical Department, curator of the old U.S. Naval Observatory, and, until 2009, Editor-in-Chief of Navy Medicine, the bimonthly journal of the Navy Medical Department. In 2009, he became Special Assistant to the Navy Surgeon General. In 2010, he was appointed Director of the Benjamin Rush Education and Conference Center of the Navy Medicine Institute.
In 2002, he was appointed to the adjunct faculty of the International Lincoln Center for American Studies of Louisiana State University, Shreveport. In 2008, he was a consultant for the Lincoln Center Rodgers and Hammerstein revival of "South Pacific." With the Navy Medical Support Command, Bethesda, MD, Mr. Herman produced a six-part video series, "Navy Medicine at War," (you can view one of the segments online, "Final Victory") and has produced a documentary and is writing a companion volume about the rescue of the South Vietnamese navy during the closing days of the Vietnam War. The film is entitled "The Lucky Few: The Story of USS Kirk." In August-September 2010, National Public Radio aired a three-part series about USS Kirk and her crew.
He has authored over 50 articles and several books, including A Hilltop in Foggy Bottom (1996), Battle Station Sick Bay: Navy Medicine in World War II (1997), Frozen in Memory: U.S. Navy Medicine in the Korean War (2006), Navy Medicine in Vietnam: From Dien Bien Phu to the Fall of Saigon (2009), and Murray's Ark and Other Stories (2010). His new book, The Lucky Few: Vietnam's Tragedy Turned Triumph on USS Kirk, will be published in 2012.
In his retirement, Mr. Herman plans to continue studying history and make documentary films.