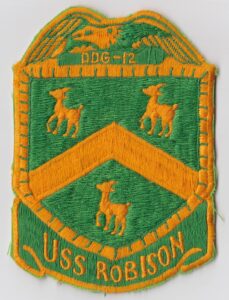 We are drawing closer to completion of the new "Into the Lion's Den" exhibit in the Cold War Gallery, and we'd like to take the  opportunity to remember the fourth U.S. Navy surface warship involved in the 1972 night battle in Haiphong Harbor. We previously shared stories about USS Providence and USS Rowan, as well as a detailed description of the exhibit, which features a recreation of the armored bridge of the cruiser USS Newport News. The fourth ship involved in the battle was the guided missile destroyer USS Robison (DDG 12).
USS Robison, a Charles F. Adams class guided missile destroyer (see our story earlier this week about ex-USS Charles F. Adams) was commissioned in 1961. She served with distinction on the gunline off the coast of Vietnam, earning seven battle stars during the war. One of the components of the new exhibit under construction is a wall panel describing Operation Sea Dragon. During that operation Robison was awarded a Meritorious Unit Commendation, and was credited with destroying 78 enemy logistics craft. And of course, on the dark evening of 27 August 1972 that is being recreated in the new museum exhibit, Robison steamed into Haiphong Harbor and shelled enemy targets ashore. The destroyer continued to serve for another two decades, and was decommissioned in 1991.
We hope that Robison veterans will take pride that their ship will be represented in the newest exhibit in the Cold War Gallery. We'll be cutting the ribbon on the new exhibit during the Naval Historical Foundation Annual Meeting, to be held 23 June at the Cold War Gallery, at the Washington Navy Yard. If you are interested in attending, you can RSVP online.