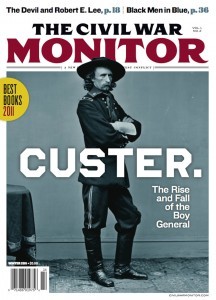 Last fall we learned about an exciting new publication about the American Civil War. This brand new quarterly magazine is called the Civil War Monitor, and it looks to bridge the gulf between academic and popular history. According to the magazine, it is "devoted to the belief that popular history need not be superficial or sentimental." It features richly illustrated and originally researched articles written from a variety of angles—military, political, social, and economic—by the country's leading historians and authors. The first issue was published in September, and is available online to read for free. The second issue hit newstands in December, with the digital version online and available to subscribers. Issue 3 will be out in February.
The good news for those who love naval history is that this publication will feature frequent coverage of the naval aspects of the war. While many books and magazines about the Civil War seem to focus exclusively on activity ashore, the Civil War Monitor will not overlook action on the oceans and rivers. One recent story on their website addresses that very issue. "Bolting on the Civil War Navy" considers some of the reasons why the importance of naval action during the Civil War is often overshadowed by events ashore in both popular memory, and historical study.
In addition to their print publication, the Civil War Monitor offers a robust website featuring a blog and photo essays. These online tools allow them to expand on the content of the print magazine, and explore other aspects of the war. The website features photographs and artwork from the Civil War, and frequently these are items with a naval slant. A good example is a transcription of this letter from Rear Admiral Samuel Francis Du Pont, USN, recounting the successful 1861 Union assault on Port Royal. Their blog also features book reviews on The Bookshelf, updated regularly.