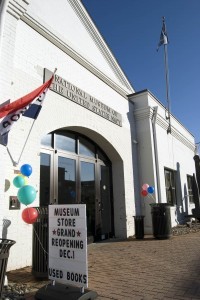 We are pleased to announce that the Museum Store at the National Museum of the United States Navy is officially re-open for business! The Naval Historical Foundation will be managing the day-to-day operations of the store. We've stocked the shelves with a huge variety of items for adults and children of all ages, celebrating Navy and Marine Corps history and heritage. The store will be open during normal museum operating hours, which are generally 9AM-5PM, 7 days a week. Please be sure to check the Navy museum's website for any special upcoming holiday/winter hours and closures.
With the completion of the remodeling supervised by store manager Frank Arre, the shelves are restocked and the doors are now open. We've posted a few photos below to give you a sense of the different types of products available. As always, proceeds from sales in the Museum Store will go to support programs by the National Museum of the United States Navy, and to continue the Naval Historical Foundation's 85 year mission to to preserve, commemorate and educate America about our Navy's proud history.
Visit the store online at museumstore.navyhistory.org.