Behind the Scenes of the Battleship NORTH CAROLINA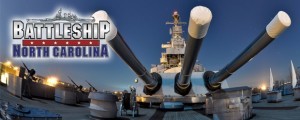 For the explorer at heart, bring a friend along for a behind the scenes tour of unrestored areas of the Battleship North Carolina on Saturday, January 14, 2012.  The four-hour tour consists of small groups with guides. Guests explore the bow (officers' country and boatswain locker), third deck (Radio II, brig, after gyro, storage rooms, ammunition handling, Engineer's office, torpedo area), Engine room #1, the refrigerator compartments, and climb inside the fire control tower to the top of the ship. The Azalea Coast Radio Club will be in Radio II to explain their work on the ship's radio transmitters. It's the tour that brings out the "Indiana Jones" in all of us, without the snakes!
The tour is limited to ages 12 and older and limited to 40 participants per time slot. It is not appropriate for those who have difficulty climbing narrow ladders or over knee-high hatches. Wear warm, comfortable, washable clothing, sturdy, rubber-soled shoes and bring a camera! Choose between a morning (8:30 – 12:30) or afternoon (1:30 – 5:30) tour. Registration and payment are due by Thursday, January 12th. Tour is $45/$35 for Friends of the Battleship or active military. Call 910-251-5797 for reservations.
The Battleship North Carolina is self-supporting, not tax supported and relies primarily upon admissions to tour the Ship, sales in the Ship's Store, donations and investments. No funds for its administration and operation come from appropriations from governmental entities at the local, state or federal levels. Located at the junction of Highways 17/74/76/421 on the Cape Fear River. Visit www.battleshipnc.com or follow them on Facebook.com/ncbb55 and Twitter.com/battleshipnc for more information.